2009 National Radio Club World FM TV DX Association Convention
ALLENTOWN IN 2009
Joint Convention September 4-7, 2009
Welcome to Pennsylvania's Lehigh Valley
Rodeway Inn Conference Center, Allentown, PA
by John R. Malicky
In lieu of the fabulous WNRC, this year's convention was transmitted by WJRN with a very low minuscule power of .007 milliwatts on 1640 AM/88.7 FM and for the very first time on digital television DT 60. We begin this stirring account.
"It's Friday, September 4, 2009 and you're receiving WJRN 1640 AM/88.7 FM/ DT channel 60 Allentown, Pennsylvania. The time now is 12 PM Eastern Daylight Time. "From west to east for a great feast, from city to countryside, by air and train, bus or the ride, we came for the sounds in Allentown!
"Our top story, now in their 77th great year, the National Radio Club convention was moved horizontally in one year, in state, from Pittsburgh 2008 in the west to Allentown 2009 in the east. Here's more about this story. Known as the Lehigh Valley, Allentown is one of the three cities there along with Bethlehem and Easton. Like Boise in 2007, the NRC had a joint (not THAT kind) convention merging with the gr
oup Worldwide TV/
FM DX'ers Association, also known as WTFDA or pronounced 'woofda'. As reported, members met new and old friends on a different kind of high. Held over the Labor Day Weekend from September 4 to 7, this holiday arrived almost one week later as compared to last year's holiday which was on the first. However, many members did arrive on time at a somewhat sprawling Rodeway Inn Conference Center on Bulldog Drive just off state route 309. From several accounts, the drive is named for the former Mack Truck Center, with the trademark bulldog at the edge of the hood, that relocated to North Carolina.
"In related news, not taking a low approach for the activities and events, a congratulatory offer was given to the first time host. Bob Smolarek of High Bridge, New Jersey, who's been an NRC member since 1982, with his first convention attended in 1983, and a WTFDA member since 1984. Even a licensed ham, his call sign is 'N2MIF' as he began that activity in 1989. Along with the NRC, Mr. Smolarek had commented that he wished to thank members Shawn Axelrod, John Bowker, Mike Bugaj (WTFDA), Scott Fybush, Jon German, George Greene, Wayne Heinen, Mark Humphrey, John Malicky, Paul Mount, Harry Schools, Dick Truax, Yosemite Sam, and especially Ernie Wesolowski. There even was entertainment on Friday provided by The Pussy Cat Dolls. Time now, 12:02 PM.
"Tune in this Friday night at 11:05 PM for The Lehigh Valley History Program sponsored by The Whitehall Mall. In depth coverage that begins with Allentown which was founded in 1762 by the colonial leader and State Supreme Court Justice William Alien. Known as Northampton until 1834, Allentown was incorporated as a city in 1867. Listen as while German settlers played a key role in Allentown's development, the city was once a center of textile mills and cement manufacturing, though still home to Muhlenberg College and WMUH-91.7. Solidifying other truths, Allentown's Zion Church once housed and hid the Liberty Bell in 1777 after The Battle of Brandywine when George Washington had no hope of saving Philadelphia from the British. Saving the truth for Bethlehem, in 1741 a group of Moravian missionaries from Europe arrived, established a community, and christened their settlement during the traditional vigils on Christmas Eve. Considered among the finest examples of pre-Revolutionary German architecture in the country, many of the large stone buildings constructed by the Moravians are still in use. Also home to Moravian College that was founded in 1742, one building or buildings now idled and a giant in the industry is Bethlehem Steel. In the third part of our story, we'll look: at Easton which was founded in 1752 by William Parsons. Located at the junctures of the Lehigh and Delaware Rivers and at the state line, Easton was once home to George Taylor, one of the signers of The Declaration of Independence. Built in 1757, the Parsons-Taylor House still stands on South Fourth Street. Once a key center of travel that included the Morris Canal and major railroads, trade, and industry due to its strategic location, Easton is now home to The Crayola Factory, a unique tourist attraction that includes interactive exhibits and history, though it's not a true production facility. Of a different color and founded in 1832 is Lafayette College. We'll even listen to their station, WJRH-104.9, as their Leopards, for the 145th time this November, tackle Bethlehem's Lehigh University Mountain Hawks, formerly the Engineers, in college football's oldest continuous rivalry that Lehigh's WLVR-91.3 will also cover.
"It's 12:03 and our final story, rated by Arbitron as the 69th market and The Radio Book as the 74th and comprising two counties, Lehigh and Northhampton, the Lehigh Valley is home to 23 radio stations. With a population around 700,000, the Valley is covered well. With a population of 43 and rated number one, Allentown 2009's coverage is the best and hits a homerun. Weather next.
"You st
ill have time to join the WJRN Allentown '09 'Put the Ham-mer Down' Baseball Caravan Trip, "The Dirty Dozen'. At the two year old Coca-Cola Park in Allentown at 5:35 PM, we'll watch the 2008 World Champion Philadelphia Phillies AAA affiliate farm team Lehigh Valley Iron Pigs meet in the mud the stampeding Bisons from Buffalo. Formerly the Ottawa Lynx, the two-year-old team's name honors a facet of the steel industry, pig iron, which is iron cast into pigs, a rough oblong piece of cast metal, in preparation for conversion into steel. Expect the Pigs to double their pleasure and fun to win a doubleheader seven to one and four to one. 'Laugh, Cheer, Oink! as you can hear the squeal of delight by calling the team's number 610-841-PIGS. Over the air, all Pigs' 72 home games are televised 'Powered by Service Electric Cablevision' – TV 2 Sports. In addition, coverage continues on Channel 13 Blue Ridge Communications, TV 35 WYLN in Hazleton, and on Saturday all home games on WFMZ-69. On radio, the flagship ESPN 1230-WEEX Easton and repeater 1320-WTKZ Allentown lead a five station network: 1370-WPAZ, 1410-WLSH, 1440-WNPV, 89.1-WYBF, and 105.5-WMGH. It's a sweet deal, only nine dollars to pay, get your own meal, so call today.
"Sunny and warm today and tonight with conditions just right. Time now is 12:05 FM and here's a public service message. At the Inn in the Birch Room, with ongoing admissions, access is granted, with special permission. So WHYL many are off to bed, a few more guests arrive; tomorrow will be most interesting, on the second convention day of September Five. Now back to music and more on AM One Six Four.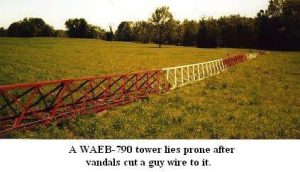 Dateline Saturday, now at eleven-forty, here's the news, for our top and lead story. On another WONDerful day, about 15 of the bunch, departed to see some tower sites, a station visit and lunch. In what was described as 'the horror', the first stop was the five tower 350 feet in-line guyed array of WAEB-790 in Whitehall Township located north of US route 22 and near PA route 145. With no eyewitness accounts of the vandalism the day before, the first tower was dropped lying in the field as the guy wires were cut. Licensed to Allentown with 3600 watts days and 1500 watts nights with different patterns, News-Talk 790 went on the air in 1949 but was noticed off now for a brief period of time. With studios also in Whitehall, a couple miles to the south, WAEB is one of four stations in the local Clear Channel group. The others are WSAN-1470 (ex WKAP) sports/oldies, WZZO-95.1 with rock, and contemporary hit 'B-104' WAEB-104.1. Reflecting the Valley are 790's call: W Allentown Easton Bethlehem. So far, no one has been charged with the crime. Now a word from our sponsor. For all your second stop shopping needs, shop the Whitehall Mall where you'll find three beautiful self-supporting towers of WSAN-1470, the Valley's oldest station (May 24, 1923) With 5000 watts, you can direct yourself or be directed at night. Above all, avoid the two fenced in towers located in the parking lot. Cash and carry not recommended.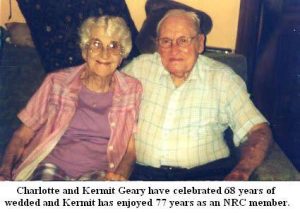 In other news, a club member from Pittsburgh was seen leaving the group around noon driving about ten miles north on route 145 to Walnutport, PA to visit the home of the club's oldest and longest member since 1933, Kermit Geary. Along with wife Charlotte, they celebrated 68 years of marriage on September one. As it was an honor once again, as their four beautiful cats agreed, to meet the man with over 6,500 QSL radio deeds. We'll be back after a short timeout. A jingle, 'have your cake, with your troop, make a (third) stop at WENDy's, for your hungry group!' Back to the news. Several radio enthusiasts made a pleasant and surprisingly unexpected visit and tour of WHOL-1600 'Hola Radio' on Colorado Street in Allentown. This reporter met the 'El Presidente' in 2005 before Kulpsville, but this is the first time the group met owner Mr. Mathew Bracilli. An Italian-American, Mr. Bracilli commented that after years as a salesman and general manager of sales for the Hispanic group Mega Communications while becoming fluent in Spanish, he was able to leave and soon purchased WHOL which was previously a Spanish talk and religious teaching station. With a 25% Hispanic market, Mr. Bracilli changed WHOL to a more upbeat and now successful 'Tropical' musical format. This success has continued, much to the chagrin of Easton residents, when Mr. B. acquired WEST-1400 about three years ago converting it to a repeater station for WHOL. Four years ago, this reporter and Kermit Geary visited both WHOL and WEST again before Kulpsville. As the Valley's second oldest station since 1936, historic WEST's visit, at their original location on Easton's main street of Northampton was made literally at 5 PM and their close of business on Friday. With their Christmas card photo in 2005, WEST had a nostalgic format and was a full service station that included high school, Lafayette College, and other team sports. They were also confirmed in 1981. Signing on September 1948, also at their original location, and once a 500-watt daytimer, WHOL has two towers, one guyed and one self-supporting, adjacent to their studios. Having added 56 watts at night on a same directional pattern, WHOL has WTKZ-1320 diplexed on their towers. With very favorable sales now marketing to a 33% Hispanic city population, WHOL has added more remote vans and is now the highest billing station in the market even over WAEB. In appreciation to the area, HOLA Spanish Radio 1400 and 1600 sponsored the fireworks show after the IronPigs Friday doubleheader. Rated numero uno, we wish Mr. Bracilli and
WHOL further success.
"In other news, these same radio fans made their fifth and final stop to see the 1,073 foot tower of the unaffiliated network station WFMZ TV 69 DT 46 on South Mountain above Allentown on East Rock Road. Adjacent to their studios, the tower also has other outlets that include WJCV-89.3, ex WFMZ WLEV-100.7, WBPH TV 9, PBS station WLVT TV 39, and the National Weather Service. Attempting a station visit, the group was told to return home and visit on Monday. Unlike the group, there were two visits made by this reporter four years ago. The last stop, though no tour, and first here was to see WEEX-1230 tower at their studio on Paxinosa Road above Easton. The second in Bethlehem, owned by 'Jolly' Joe Timmer, the studios of (250 watt daytimer) WGPA-1100; now let's go and eat our dinner!
"It's five o'clock and this is WJRN 1640 AM and 88.7 FM Allentown and here's the latest news sponsored by KORS beer. It's sunny, 74 degrees, and clear. Our top story: a group of 31 MMM (Men of Mass Media) gathered outside the Rodeway Inn for group photos while attempting to assemble a beverage antenna. A passing motorist called police, thinking of another kind of thirst, but when the law arrived, the group had gone and dispersed. In other news and again at the Rodeway Inn, there was a delicious buffet dinner of chicken and ribs with barbecue sauce, baked potatoes and coleslaw, and a salad that was tossed. Also of mass quantities, a patron consumed when served, described of Biblical proportions, though no comment for he disappeared. In sports, from today some finals and scores: five to three, four to two, and three to one, and in the fifth inning eight to four. Now to the weather, pleasant and warm tonight, clear in the morning, tomorrow sunny and bright. Johnny Fever reporting.
"It's 6:30 now and from the beautiful Birch Room high atop the Inn at Rodeway in Allentown, we present the All the World is a Stage Speaker Series with your host Bob Smolarek whose opening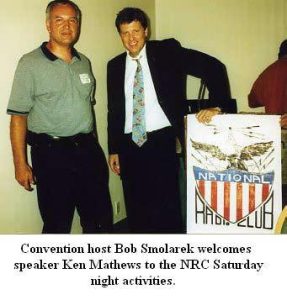 greetings WARMly welcomed everyone and introduced our guest tonight, radio personality, Mr. Ken Mathews (cue the theme of the 'Mr. Ed TV Show'). 'Hello, I'm Mr. Ken. A Ken is a Ken, a name of men, and no one can talk to any Ken that is of course unless the friend is the famous Mr. Ken, go right to the source and ask the friend, he'll give you the answer that you'll comprehend, he's always on a steady trend, talk to Mr. Ken!' With a speech and discussion that was lively, animated, informative, and enjoyable, Mr. Mathews has had a 27-year career in radio, many of them at contemporary hit or hot adult contemporary music FM stations. His longest gig or work at one station was 15 years from both September 6, 1991 to 2006 at Allentown's 'B-104'Morning Show' on WAEB-104.1. Mr. Mathews was even voted as the 'Best Lehigh Valley Morning Radio Show' for 2004-2005 by Allentown's paper, "The Morning Call'. A 1985 Wolfpack graduate from North Carolina State University, Ken actually started in radio while still in school for 2 years at the campus station licensed to Raleigh, WKNC-88.1. His career in commercial radio first began in Franklin, NC at the former WRFR, now WNCC-96.7 and sister to WFSC-1050 which was verified by this reporter in February, 1983. Anyway, Mr. Mathews then returned to Raleigh at WRAL-101.5, then went 'movin' on up' to the former WERI, now WEEI-103.7 Westerly-Providence, then visited the wZOU, now 'Jammin' WJMN 94.5' Boston, capitalized a position at Hartford's WTIC-96.5, 'drifted' over to the former WWGT, now 'Coast FM' WMGX-93.1 Portland, Maine, migrated south again to WSSX-95.1 '95 SX' in Charleston, SC, heard the call to 'go west' to WGRR-103.5 Hamilton-Cincinnati, and finally returned east to B 104. In the summer of 2007, Mr. Mathews also had a three week 'live' audition of talk at WGPA-1100. In addition, Mr. Mathews is a professional speaker and emcee, teaches Public Speaking part-time, consults various clients as a media advisor, spent 7 months in politics, and even worked very briefly as a rodent exterminator at WRFR! Anyway, still looking to be hired again at any radio media position, Mr. Mathews' contact information is www.KenMathews.com or call 610-838-KENM (5366). Why, Ken would even take a temp job at WNRC! Maybe with honor for John Bowker's radio call letter jacket. Ken wore a 'WINS (1010) tie. As for Mr. Mathews' presentation, at times he was both critical or applauded the industry all the while describing his interest and career from a teenager to today. Alluding to a feeling of compassion for other personalities like him. Ken insisted through his agent on a 'no-voice-tracking' clause that would replace anyone in his contract. Mr. Mathews also conveyed that he 'felt great satisfaction being with us this evening and still has that great feeling about radio like all of (us) do.' Where (some) people in the industry now don't realize the history, texture, and the great abilities in radio who unlike ourselves follow, capture, pursue, and treat it as valuable as we do. It's what we do! Still, Mr. Mathews said that the most important person in radio is the listener. To that we say, 'we're listening!'
"So to begin "The World According to Ken', when most college students took their break and went to Myrtle Beach, SC, Mr. Mathews and a friend would travel north up the east coast to hear and admire the great voices like 'The Grease Man', Howard Stem, and others, this talent that's now missing on radio. Relating an exciting experience about five years into career. Ken recalled meeting "The Man' Wolfman Jack when they worked together on a remote to open a McDonald's in Raleigh. 'Howl! 'Of the little things. Ken said that mentioning the time updates periodically is still important, plus this could tell a listener if the show is local and authentic. Or, in this reporter's view, comparing time to updated scores of any game in sports. Ken honors the words of former FCC Mark Fowler that radio can be more powerful than TV feeling, 'a word is worth a thousand pictures as long as people know how to communicate.' Of talent before and now, as radio has been so much more efficient technologically with computer driven formats saving time and money, nothing has changed regarding the talent that was once there and now been driven away. Also not there, once important and the simplest in a broadcast, was to read or just chat briefly about local and/or national topics. However, Ken did feel there are several large market operations that still provide great forums. He also praised broadcast engineers whose work is an acknowledged 'craft'.
"On national talk, news, satellite and internet, and ownership, Mr. Mathews felt there are great syndicated talk programs with hosts like Glenn Beck and Michael Savage. He was amazed that, as somewhat a savior of AM radio. Rush Limbaugh can have 22 million listeners a day! When in a large market. Ken usually wants to hear what can be very good and engaging 'live' talk shows as one member pointed out there are two successful FM talk stations for local interest in Mississippi and New Jersey. Noting to have 'the show back and entertain,' Ken wrote a similar article for the Jones Radio Network one year ago. Of news, especially cable and broadcast, what MSNBC, CNN, and Fox News are now doing in television is what radio did 20 years ago, only these outlets are doing this so much more while naturally covering many more stories. Also for AM stations like WAEB, again to save on salaries, they have their news coming from the Harrisburg bureau. So while radio has lost almost 23% of its listenership, this is like almost imagining a whole industry saying if you don't like this, go somewhere else (also mentioned by Lisa Fybush of her local WBER 90.5)! And listeners have to satellite radio that has that perfect, cleaner, and tighter sound that can access hundreds of choices, maybe too many with a service that is maximized and now created a 'niched' Howard Stem. So in a positive note, claiming that terrestrial radio still and always will provide in the car the quick and instant (and free!) choice that it's on with one button. Of another choice with individuals and those who worked in the media industry, they have started and found success with their own internet radio shows creating something better because they have an audience and full control. One example is a friend in Scranton, PA whose successful show is 'Gary On Line' because he even sold advertising on his broadcasts and bought space on billboards. With more choices in 2009, member Jeff Lockwood mentioned the technology in 2 years will provide for portable digital TV. Regarding digital TV DX, Bob Smolarek mentioned that it's good and sometimes better than analog, but if the signal strength isn't strong, the screen will be harder to decode. Finally for ownership. Ken felt the need of smarter owners to move into radio. Member Bruce Collier pointed out someone has like Larry Wilson who sold Citadel Communications for a profit, then acquired new radio properties in Oregon and. Washington. Member Scott Fybush mentioned he has seen the station prices for sale have been dropping in the last 15 years while Ken pointed out that 3 giant corporations have lost billions of dollars.
"Other final topics include religious stations, IBOC/HD, a close friend, and other positive contributions. Back to you. Ken. Of religious broadcasters, Mr. Mathews felt their service and the amount of stations has 'just exploded' and was surprised to hear IRN and USA Radio Networks had merged. Of this reporter's note, local WAMO and WPGR have all been sold to St. Joseph Missions which for WAMO represented an end to many years as an urban contemporary, hip hop, and rhythm and blues station. Also, while visiting WRBS-1230/95.1 in Baltimore, this reporter noted that these 2 religious stations provide an impressive choice for talk, teaching, and uplifting contemporary Christian music as 95.1's two Internet streams carry alternative music for younger adults. Other changes locally and just recently has been the country station Froggy 98.3 jumping over to an AC Christian station WPKV 'K-Love.' Again, we return to Ken whose view of IBOC/HD radio was less than satisfying and felt the industry took an established product and fragmented it with too many channels or signals. Determined to work in radio again, Mr. Mathews is pleased his friend and Program Director Brian Check is doing well at 'My-106' WISX-106.1 in Philadelphia. Ken also noted that he appreciates any PD who lets his personalities be themselves. Mr. Mathews other contributions included concern with children's safety issues winning the PA Governor's Highway Safety Award, speaking for 20 years about the dangers of drinking and driving to groups like M.A.D.D. and D.A.R.E., the reward as a volunteer for two years with appreciation for the work on DXAS, at the Governor Morehead School for the Blind in Raleigh while at NC State, and most importantly being happily married and father to 2 young sons.
"That we now close, Mr. Mathews felt the dialogue here was most interesting as he feels radio needs to be once again more creative, take risks, entertain, find an exciting new generation of air personalities, and capture the younger and future generation. Capturing us as the 'Voice of Allentown 2009', we thank Ken, wish him less QRM, and 73s! This is your NRC Reporter reporting.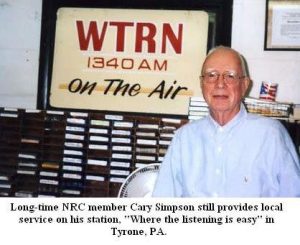 "This is WJRN Allentown 1640 AM and 88.7 FM, it's 8 o'clock and time now for the NRC Business Meeting brought to you by 'Ball & Chain Locks, good for locking anything or anyone into one position.' Now here's our host and DXN Editor for 21 years, Paul Swearingen. From the Board of Directors and Wayne Heinen, the club is doing very well while it has been cutting costs like the internet exchange of bulletins with foreign clubs. Also, the agreement with Benjamin Printing in Watertown, New York has been positive for the printing and mailing the DX News bulletin. Regarding membership, this has been good with 665 total members for three services, the DXAS (DX Audio Service) at 75, though there's been some loss of members, e-DXN or the electronic version of DX News presently at 100, and the paper bulletin of DXN at 490 with some members registered for more than one service. Also, the 30th NRC AM Log Book is out with the cost here at Allentown at $18.00 and $19.95 to U.S. members (plus in state Colorado sales tax at 3.5 percent) as this edition is dedicated to outgoing Board of Director John D. Bowker.
As written in the Log Book's preface by Wayne Heinen, "Over the years John, with gracious help from his lovely wife Linda, has been the chief organizer of many of the National Radio Club's annual conventions. His involvement with the Club as our Ombudsman smoothed many a ruffled feather and his contributions as a member of the Board of Directors has helped guide our club well. He has been a cornerstone of DX Audio Service with his always entertaining Travelog feature. This year, as John adds to his personal number of years, John has decided to retire from his club activities. We thank John for his many years of volunteer service and wish him a fruitful and relaxing retirement." On this reporter's personal note, there will always be the utmost respect for two wonderful people, John and Linda Bowker. I always felt honored to see them every year at our conventions almost to the point of seeking John's approval on anything I've done, written, or photographed for the club. Most humble, both were welcome to see for their duties; as registrars, computing and tabulating the auction, and conducting programs, discussions, and forums. Like a similar message of replacing radio personalities, we the NRC now face trying to replace the 'voice of the club' John Bowker. It is only wishing that if John cannot attend any more conventions, then let's bring the convention to him in Tampa! As always, we thank all our editors, especially Paul Swearingen who's now retired from teaching in the Topeka School District and Fred Vobbe for DXAS, plus all Board members. Ken Chatterton, Bill Hale, Wayne Heinen, and Dick Truax. Also, we thank Wayne and Joan Heinen for their invaluable work compiling the ongoing NRC AM Log Book and with club publications and to all our good members. That's 'Viewpoint', now back to the meeting. As Paul did mention, he's still looking to step down as DX News Editor and looking for a capable person to understand Adobe InDesign CS2 and CS3 computer formats and volunteers for other duties.
Finally, with one acknowledgment to come, new club Convention Planner Ernie Wesolowski (while having recognized our 2009 Host Bob Smolarek was looking for any 2010 hosts having one bid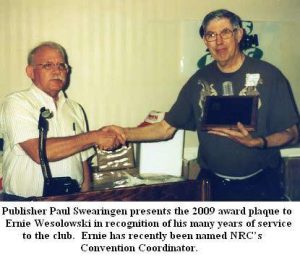 already for Rochester, New York by Scott Fybush) received a congratulatory 2009 NRC Plaque for years of dedicated service, the responsibility each year for the plaques, and now coordinating conventions. Then Mike Lantz acknowledged members Martin Wishnewitz, Wayne Ryan, Jon German, Ernie Wesolowski, and this reporter for the condolences regarding the recent passing of his beloved guide dog "Lexie". Then with the good news that he's been accepted 'to go to WABC in New York City', but in reality from October 26 to November 20, Mike will go to the Big Apple's Guide Dog Foundation to receive with training a new guide dog and per his request that it be 'shaped like a radio' or walk like an Egyptian!
"It's 8:30 PM and time now for 'Whose Money is It Anyway?!' or the NRC Auction again with your host, Paul Swearingen. With 16 members vying for some fabulous prizes and gifts, our final tally, recorded with a stone tablet, hammer, and chisel or pen and notebook paper, was $204.00. For the highest bids of $55, we thank Jon German and all bidders. Two of the quality items this reporter snared was a Radio Shack digital DX-375 AM/FM/shortwave receiver and a Panasonic RX-FT530 dual cassette AM/FM boombox. We would also 1ike to thank members who donated items, presently here or not, like long time member, editor, and NRC technical writer Russ Edmonds whose effort to donate a generator went unbid and Harry Schools for bidding or not, his collection of DX News dating to 1970.
"It's midnight and this is WJRN 1640 AM and 88.7 FM Allentown as we now ask you to tune to 'Nice 960 WHYL Carlisle, Pennsylvania where all the great songs have gone' for a DX test with oldies, jingles, and ID's transmitting on their power of 5000 watts directional daytime (also 22 watts at night). In the meantime, so many have gone off to bed, awaiting tomorrow's. National Radio Club's test. So study well, as you dream, but you'll still lose out, to a fellow named Greene! Returning to regular programming..' of that crazy rock singer, arriving via train, he'll soon depart, flying on a Jefferson Airplane.' 'It's 4:45 in the AM and this is Perspectives and I'm your host Lionel Osborne.' It's 5 AM and this is WJRN 1640 AM 88.7 FM DT channel 60 Allentown, Pennsylvania now leaving the air until 2010 as our next guest you'll know, if you haven't already dropped, for the next sound you'll hear, is snap, crackle, & pop!
Sunday, September 6, Day Three Allentown 2009. "At the tone, 14 hundred hours (10 AM EDT) zero minutes. Coordinated Universal Time.. tick, tick, TING, ding, ding, dang nab it, this reporter has lost again." Anyway, even having 20 of 30 correct was not enough as the winner once again, with 27 answers correct, was "The Ace of Akron" George Greene. In second with one less was "Rochester's Radio Reporter" Scott Fybush. Our host. Bob Smolarek, wrote the quiz that was meant for Boise 2007 tweaking it just a bit. A sample of questions included number 5: "Which station is located in Idaho?" "A-KMOX B-KTFI C-KGEZ D-KKGR" The answer was B KTFI-1270 Idaho Falls. A local question, "Which station was known as the Lehigh Valley Giant?" "A-WGPA B-WAEB C-WKAP D-WEEX" The answer was D WEEX-1230 Easton. The final question, 'how would you rate Allentown 2009?* 'A-fair B-okay C-good D-great E-excellent' The answers were D and E! So, that's all for me, and take it from thee, the number one club is the N-R-C! Make it so, if Rochester in twenty ten, now off I go, to visit thirteen forty WTRN! 73s!
NRC/WTFDA ALLENTOWN 2009 – 43 Members, Guests, and one K-9
CT Brian May, Laura McCusker; DE: John Cereghin; FL: Warren Greenberg, Mike Lantz, and Jeff Lockwood; IL: Frank Merrill; KS: Paul Swearingen; MD Richard Dark,. Bill Harms, and Tom Yingling; MA: Glenn Cooper; NE: Ernie Wesolowski; NJ Bob Antoniuk, Paul Mount, Rick Shaftan, Bob Smolarek, Bob & Patti Stonier & Gracie; NY Jerry Bond, Scott, Lisa, Ariel, and Eli Fybush, Jon German, and Ken Lyon; OH George Greene; ON: Wayne Ryan, Dave Whatmouyh; OR: John Adams; PA Bruce Collier, Russ Edmonds, Dennis Emerick, R.E. Evans, Harry Hayes, John Malicky, Ken Mathews, Ed Mauger, Dave Nieman, Brett Saylor, Dave Schmidt, and Bob Seaman; TN: David Jones.