2006 National Radio Club Convention
AKRON 2006 – "Getting to Know You"
by John R. Malicky, September 1, 2, 3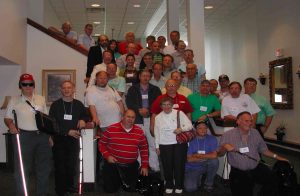 It is the 'rubber game' or the third convention of meetings in the upper midwest/northeast U.S., Batavia, NY 2004, Kulpsville, PA 2005, and here in northeast Ohio, Akron 2006! With a musical and personal theme this year, NRC Akron 2006 said we are "Getting to Know You." So, for the 38 registered members and guests, plus three others not listed, that is what we did! As always, Akron '06 was an enjoyable time to once again 'getting to know' our regular and new friends!
So now, you say how (was it), we said 'wow', and take a bow for the grand effort our 'coordinating hosts' and wonderful friends from Florida, John and Linda Bowker, performed- for NRC Akron 2006!  All the world, or at least here, was their stage! Their performances or 'roles' included reserving the hotel, The Best Western Executive Inn at 2677 Gilchrist Road, (Route 91) exit 27 south off Ohio 1-76, registering attendees, organizing the "Program Plan", scheduling the banquet, and made sure we wore our 'masks' or smiles! John also' acted' in some of the programs like a slide show and the candy quiz. John and Linda also tallied the funds for the NRC Auction.
"Convention radio" for the people and radio people for the convention were present also. At .035 watts, WNRC-101.5 FM, "Your Convention Station", was on the air for the three days in the meeting room. The station was assembled courtesy by WNRC CE and DXAS Editor Fred Vobbe. The programming consisted of oldies and MoR music, WCFL jingle inserts, a talk program, "Coast to Coast America", and those ads! Locally produced, those 'oldie but goodie' ads included "Weasel Whiz Beer" and "Ken Packs a Package", a tongue-in-cheek tribute to Ken Chatterton!  Some of WNRC's equipment included a Belar Modulation Monitor, an Orban Optimod-8100 audio processor, and an FME-10Omw Transmitter from Vobbe Communications.
The radio people were two local personalities, Joey Harper Hall and Bill Hall, from WAPS (Akron Public Schools) "91.3 The Summit", named for Akron's Summit County, who spoke before our banquet and sang for their supper!  In attendance and who arranged for our speakers to be here was through the courtesy of Akron's WAKR-1590/WONE-97.5 Account Executive Tim Davisson. Twice I had met Tim, first at NRC Pittsburgh '01 and second in 2002 at a tour of WAKR and Ohio stations just prior to NRC Lima. For his efforts, Tim's accountability and impeccability was correct!
Labeled as the "City of Invention" and twice an "All-America City" in 1981 and 1995, Akron, Ohio was founded in 1825. Built on the Ohio and Erie Canal by folks from New England and immigrants of Irish and German descent, the canal boats were constructed near the intersection of Main & Exchange Streets. Of historical significance, the boats carried the oatmeal that fed Union troops during the civil War. Later as a home grown industry, Quaker Oats made Akron famous for the cereal "shot from guns!" Hardly shot, but now with minimal production, Akron is still the corporate and scientific research home for Goodyear, Firestone, and Uniroyal-Goodrich. "On the Wings of" Goodyear Tire & Rubber Company was incorporated in 1898 and named after Charles Goodyear. Along with his brother Charles, F .A. (Franklin Augustus) Seiberling founded their company which grew with the automotive industry to establish Akron as "The Rubber Capital of the World." Within the company were Seiberling's inventions of the tire-making machine and the detachable wheel rim.
Just south of the immense Goodyear plant is Akron's Triplett Boulevard and home to four of the city's landmarks, One is the 82-year-old Fulton Airport which also contains the Akron Airdock, an immense ten story 'hump of a building'. The airdock built dirigibles including the USS Akron, launched in 1931, and the USS Macon. Near the airport is the third landmark, the All-American Soap Box Derby 6 lane track and museum. As the race started in 1934 in Dayton, Ohio, it then moved two years later in. 1936 to Akron because of its central location and hilly terrain. Through the government's WPA (Works Progress Administration), "Derby Downs" was built and sixty years later is now the center of the world for soap box derby car racing for youths, age 8-17. Last and adjacent to the Downs is Akron's "Rubber Bowl." Another WPA project completed in 1940, the 'bowl' or football stadium is home to the University of Akron Zips.
Zipping into downtown and around the dial is Akron's landmark buildings, the cultural district, and the radio market. The four historic buildings all opened in 1931. Now used for other purposes, they include the YMCA and YWCA buildings, the Mayflower (Hotel) Manor, and First Merit Tower which was the Central Depositors Bank & Trust. A good deposit makes sense in the cultural district's two civic jewels. One is the 77 year old Akron civic Theatre, one of only 4 or 5 remaining atmospheric theatres in the country. The second is the Akron Symphony Orchestra that has concerts at the E.J. Thomas Performing Arts Hall on the University of Akron campus. With a population around 600,000 and the 73rd market listed by Arbitron (2005), what's music to our ears is metro Akron's 12 stations, (5 AMI 7 FM). Of the 5 AMs, 3 are licensed to Akron. The oldest station is WARF-1350, but for years was the "Whistler" WSLR which signed on the air in 1925. Broadcasting 66 years in October is WHLO-640 and WAKR-1590. So, let's 'whistle' a tune, say 'hello', and 'wake 'er' up for now it's on with the show!
On the first weekend of September, the weather was dismal and dreary, however spirits were bright and sunny registering on Day One, Friday, September 1, for Akron' 06 in the NRC Reception Room 206. We officially' signed on' at 7: 30 PM with John Bowker's greeting and his interesting slide show program, "Radio Networks." The program was an illustrated look at radio's history 100 years ago to today. This included the first broadcast on Christmas eve and night at Brandt Rock, MA. Then the earliest stations including 8XK and KDKA and WWJ which still claims to be 'the' first station and today still IDs, "Radio One." Also, the early networks like NBC's Red and Blue, CBS, ABC, to the many networks today. There was John's silent history, too. This included his many unique and fascinating books of radio like the story of WLS to the 80 year plus collection of "Radio Digest" newspapers! Now in WSM land having recently relocated to Nashville, we thank member David Jones for his donations (stickers, magnets, pens, etc.) mailed from 3 stations, WOI-640, WPLN-1430j 90.3, and WGNS-1450. Later, time was 'donated' for bed!
Double your pleasure and double our fun, Day Two, Saturday, September 2, is here, but still there is no sun! Instead another guest, uninvited and survived, a tropical storm with rain, Ernesto has arrived! Meanwhile, members thought the DXAS program "After Dark" commenced, literally, but we were somewhat 'in the dark' as a power failure in the morning unplugged the hotel for an hour. Fortunately, we were all 'powered up' and ready for the day.
During the day, we learned about three members who spoke about themselves from a bio sheet that was given upon registration. A couple of questions were, "do you DX much?" and "what radio(s) do you use?"   Our first member and the first NRC convention attended was for; DDXD-West Editor, since 2005, Bill Dvorak of Madison, Wisconsin! A graduate of the University of Wisconsin and a huge sports fan, Bill will be celebrating 50 years of DXing, October 15, 1956, and asked that congratulatory cards were welcome! Bill has also 'managed' or hosted the Madison and Wisconsin GTG since 1994. Their theme 'getting together' is a one day affair on the third Saturday in August as 41 DXers attended recently. However, Bill now 'shares time' or alternating with friend Tim Noonan, now living in Milwaukee, each year as hosts. Batting second was DXN and now E-DXN Editor Paul Swearingen of Topeka, Kansas. Paul's career 'in the majors' of DXing started one year earlier than Bill in 1955. Paul still has his first 'glove' or radio, a 5-tube portable. Paul has been a 'player and coach' as a listener and broadcaster. His first 'position' was at "KL" or KALN-1370 (A1len County) in Iola, KS in junior college. Then in 1966, Paul 'switched positions' to KVOE-1400 while attending Emporia State in Kansas. Now as 'manager', Paul is a high school teacher in Topeka, was the NRC Topeka 1989 host, and DXN Editor for 19 years, so do send congratulatory cards and letters! Later, 'batting third' was Ernie Wesolowski of Omaha, NE. As a member since 1959, Ernie and his group hosted two NRC conventions in 1959 and 1992 in Omaha, and is our resident video expert. Thank you all for your expertise!
The tapes were rolling in the afternoon as the chief expert, DXAS Editor Fred Vobbe of Lima, Ohio presented an interesting and informative slide show on his TV station, WLlO-35, in Lima conversion to digital and some history. Employed here since 1985 and now as Vice President & Chief Operator, Fred explained how his new station, WLlO-DT 8, was built. Having a 72 share in the Lima market, the northwest Ohio area was feasible enough to allow a TV 8 with 30 kW, due to HD's smaller bandwith, amongst two TV 7's in Dayton and Detroit. The conversion included building a 160-foot tower on the side of the TV 35 tower, purchasing a new transmitter from Canada, upgrading the transmitter room, and reinforcing the tower for added weight and lightning strikes. Fred also described his tower maintenance procedures which would make anyone out of breath! He added that at one time WLIO also housed WLOK-1240/103.3. Finally, an interesting point discussed was the FCC mandate that by 2009 the U.S. TV market must be all digital, but only if 85% of the country has the capability.
At 5:45 PM, our capability was to assemble in the hotel's hall, then descend below the' ship' to the Best Western's Captain's Cove restaurant for the NRC Banquet. The hall was for the NRC Group Photo, the cove for our group's delicious dinner which included prime rib! Via Erie, PA, equally primed was another registered guest, 87 year old Harley Steward along with his grandson Robbie and wife! Arriving late, Harley still kept his 'date' with us. My only other meeting with Harley was just before and during Pittsburgh '90. With a radio in every room at home, Harley still receives his DX from afar in the night and stars!
Prior to our banquet in the' cove', an interesting exchange was arranged for two local and engaging personalities from WAFS, Joey Harper Hall and Bill Hall! The Halls related 'tall' tales about their careers in northeast Ohio radio and sales. Then they 'fell' for each other at WAKR in 1982. Each moved on as Bill went to Akron's Clear Channel station WHLO while Joey' answered the bell' or started at WMMO-98.9 in Orlando, FL. Though all is well now as they've been working for two years with a full slate on their' plate' at public radio WAFS. Traveling or operating with a budget of $300,000, 2,000 watt WAFS is primarily at "Adult Alternative" or "MA" station. WAFS's 'directions' or programs include mostly rock, and some jazz, blues, and reggae. Though now in sales, Joey's love of jazz allows her to host, "Late Night Jazz with Joey" on Tuesday from 11PM to midnight and streaming audio at www.913thesummit.com. As midday 4-8 PM host, veteran personality Bill Hall has been at five station groups, but really enjoys being at this 'oasis' or station. With only six employees at WAFS, Bill is 'one of us' and is against corporate radio's takeover of the medium primarily as a profit source. He feels, "radio news is not what it used to be," and thinks it should strive to serve the public interest. Bill does approve of digital radio for the medium. Our approval rating for the Halls was very high and enjoyed meeting or 'walking' the Halls for entertainment!
Returning to the reception room, next up is "Wayne' s World II" or the NRC Business Meeting hosted by the new NRC Chairman of the Board Wayne Heinen. From Aurora (Denver), Colorado, along with wife Joan, Wayne acquired club duties this year from Ken Chatterton Who still remains on the board. All inquiries about NRC Publications now go to Wayne, as Manager, at P.O. Box 473251, Aurora, CO 80047-3251. As a member since 1965, Wayne, and Joan, have coordinated and assembled the NRC AM Logbook since 1992-93. Wayne also hosted NRC Aurora' 95 which is when the last time we met him. Now, due to time for NRC duties, Wayne could not host another convention, but solicited bids for 2007. Also, he acknowledged, in attendance, Bill and Brenda Swiger, of Bridgeport, WV, for their great and timely effort shipping reprint orders. Wayne confirmed the club is healthy while recognizing, ala Frank Sinatra, the rest of the 'rat pack' or board members, John Bowker from Florida, Ken Chatterton of New York, Bill Hale of Texas, and Dick Truax of Indiana. Of interest, in the banquet room, there was a poster of the' real rat pack', along with two slot machines, a dart board, and a television! Not by chance, but with vision, the NRC has stayed in tune with the world's electronic relay of information as Wayne noted, "the Internet Was designed to allow the dysfunctional of the world to get to the rest of us!"
A salute was also given for the great editors of the club, Paul Swearingen of DXN and Fred Vobbe for DXAS. Regarding the number of members, there are now 560 NRC members worldwide, 531 members domestically, and just over 100 members in DXAS. At one time, the NRC had 820 members at its highest point. Now, if NRC membership drops below 500, the club will lose the mailing discount. On the other side and in almost a full year, E-DXN, or the electronic version of DXN, Which includes both DXN and DXAS now has 192 members! No, make that 193 as Tim Davisson made the connection! Subscription cost for E-DXN new members are $15, and just $5 added on to an existing membership. Wayne was also looking 'back to the future' when MP3 players will replace cassettes. He added 'the day the earth stood still' or stand is when the club can't acquire the tapes or use cassette players. Fred mentioned that E-DXN has been great, but with that type of service, the only drawback is, "you must look on-line instead of someone handing you a magazine or cassette!"  So NRC, look, listen, and learn!
As a question arose whether the convention dates might still move off the Labor Day weekend, with 2008 being the NRC's "diamond" or 75th anniversary, there was no question or negative response that Ben Dangerfield of Wallingford, PA will receive a 'gem' of a plaque as Member of the Year for 2006!
Another recognition was given to the Bowkers and the Heinens, Who were looking fine, for now they can dine when Ernie Wesolowski presented each of them with a bottle of apricot wine, from Iowa! This gift was for their service of overseeing the club like a 'hawk' while keeping an 'eye' on its progress! Salute!
Finally, it's "Saturday Night Live" as a 'bumper' crop of goodies was here for those 'sticking around' for the NRC Auction! The auction was highlighted by a purchase from Bill Swiger of a fine woven and embroidered "National Radio Club" shirt. The final tally was a 'WHK' or 1420 plus zero! Now, less talk, more sleep!
Day Three, the final day, Sunday morning, September 3, many rose with a sweet taste for the NRC quizzes. First was the verbal candy quiz hosted by John Bowker. The quiz would delight any man, woman, or 'toots(ie)'. Roll on next we did to the NRC Quiz Which was won by a tied score of 53 by Akron's George Greene and Bob Smolarek, just two of the all men. Joy was how he felt when Bob received the' jawbreaker' news that he won, as no 'snickers' were heard, a free years subscription to DXN! A couple of interesting questions included were, "What 1200(AM) station in Virginia would you like to earn?" The answer was WAGE-Leesburg. Also, "What 1500(AM) station in Indiana is listed on every bedside radio?" The answer was WAKE in Valparaiso. I also had a question, not listed, "Why did the boy stare at the automobile's radio? He wanted to watch a car-tune!" It's no joke that this convention, NRC Akron 2006, has concluded!
"This is Radio Station WNRC, Your Convention Station, for Akron 2006 now signing off and concluding another convention weekend. We hope you enjoyed our programs, shows, music, friends, speakers, banquet, quizzes, and auction. WNRC, the NRC and the DXAS, is a non-profit organization operated solely by volunteers and powered by the people for DX and the medium-wave hobby. Our offices and studios are in Topeka, Kansas and Lima, Ohio while transmitting via USPS and E-DXN. We hope you'll tune in again and visit us at NRC 2007. For the staff, management, and members, this is John Malicky saying goodnight and 73s!"
NRC Akron 2006 Registrants:
CO:     Wayne & Joan Heinen
CT:      Camille Petrecca
FL:      John & Linda Bowker, Lee Freshwater, and Mike Lantz
IL:       Marc Marino, and Frank Merrill
KS:      Paul Swearingen
MA:     Glenn Cooper, Donna Fanelle, and Bob & Rita LaVigne
MI:      John Daller
NY:     Jerry Bond, Scott Fybush, and Jon German
NE:      Ernie Wesolowski
NJ:       Bob Antoniuk, and Bob Smolarek
OH:     Tim Davisson, Ted Faix, George Greene, and Fred Vobbe
OR:     John Adams
PA:      Harry Hayes, John Malicky, Harley Steward, Robbie & Lynn Steward, Jason Togyer, and Curt White
TN:      David Jones
WI:      Bill Dvorak
WV:    Bill & Brenda Swiger
ON:     Paul Blais, Maia Guidolin, Wayne Ryan, and Dave Whatmough