2003 National Radio Club Convention
Dallas, Texas 2003
by John R. Malicky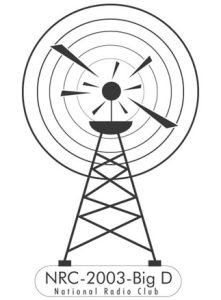 DALLAS! A celebration of our club's 70th anniversary with a convention promoting 21st century technology, information, and warm Texas hospitality. In monetary terms, an event that was good 'n' plenty or plenty good! Even Mars was in sight and so was KMRS! A triumphant return to Texas five years after Dale Hamm hosted NRC San Antonio 1998. Yes, it was hot in Dallas, reaching up to 98.6 degrees, but that was nothing compared to the topics discussed, friendships made and renewed, and activities planned by our three illustrious hosts!
In the words of Ron Musco, NRC Board Member, Membership Chairman, CPC Chairman, and host of the NRC's 50th and 60th anniversary conventions, 'I'11 never host another anniversary convention because it takes three knowledgeable and insightful people to stage an event like this,' and he was right! Our three 'people' or gentlemen were John Callarman of KRUM, Texas; Bill Hale, DDXD-West Editor, of North Richland Hills, Texas, a suburb of Ft. Worth; and Wally Wawro of Rowlett, Texas and Dallas' WFAA TV 8.
A member since 1956, "Mr. Qal R. Mann" or John, is best known as the club's first typist of the NRC AM Logbook in 1968. He was the News Director at WMIX-940 Mt. Vernon, IL from May 1970 to 1981, and then a newspaper editor for 19 years until his retirement in 2000. John never met a story or DX he didn't like!
A military man for several years, Bill Hale has lived and DXed in Idaho, Florida, Illinois, the UK, Texas, New York, Texas, California, Idaho, New Mexico, and now again Texas. Even at this year's banquet, Bill switched his seat 11 times! Bill has 'served' many NRC posts like Graveyard DX Editor, DDXD Editor in all directions, and in October, 2003, our new AM Switch Editor! Bill's military background clinched it!
Wally Wawro is from Dallas and a proud Texan. A graduate of Southern Illinois University in 1977, this Saluki came to Dallas first as a producer for TM Programming and Productions and then moved to WFAA TV in 1981. Now as TV Audio Specialist, Wally is always proud to be in front of the TV 8 ball! Plus, Wally is a part timer at Dallas' oldies station KLW-98.7 and engineers local high school football broadcasts. With some help and equipment from DXAS Chief Fred Vobbe, but with most of his own equipment, Wally built WNRC-95.7 inside our hospitality room. WNRC's programming and ingredients consisted of oldies and goodies powder, a package of past U. S. radio jingles, southern fried gospel, and hot north Texas chili!
Our hotel was the spacious and accommodating Holiday Inn Select DFW South off route 183 at 4440 Airport Road in Irving. Thus to these three duties fell É John created a very informative, colorful, and entertaining 16-page convention booklet; Bill handled registrations and refreshments; and Wally arranged for the 6 media tours and 3 speakers. With respect and honor to the upcoming 40th anniversary of President John F. Kennedy's assassination in Dallas on November 22 (my 7th birthday); his most famous quote could have reflected on the dedication of our three hosts, 'ask not what your club could do for you, but ask what you could do for your club and 70th anniversary convention; our hosts certainly did that.
Now it's convention time in Dallas, Texas! Certainly one could feel we're in the nation's fifth-largest market as rated by M Street Journal and Arbitron. Comprising the Metroplex market are 65 AM and FM stations all with the same share point! Following the Cowboys 52-13 victory the night before over the Oakland Raiders, our Sunny and warm Friday August 29th day began at 1 PM with a 'winning' tour at Clear Channel WBAP Newstalk 820! To be precise, we gathered at 1110.30 CDT at 2221 East Lamar Blvd. up to Suite 400 in Broolhollow Plaza Two in Arlington with peaceful intentions in mind. Here at the 5 ABC owned radio stations, these followers were led by Roger Helling, Engineer of Ft. Worth licensed WBAP; "The Country Leader" KSCS-96.3 also of Ft. Worth; "The Twister" with "the most new country in Texas" KME0-96.7 licensed to Flower Mound; Allen and north Texas' "ESPN 103.3" KESN; and Radio Disney's 'MicKI', KMKI-620 licensed to Plano with studios at the ABC Radio Network location in Dallas with a tour scheduled for tomorrow. Our 'posse' was steered here with precise directions for each tour in our very detailed, very factual, and verie nostalgic convention booklet.
Signing on the air May 2, 1922 as listed in the Broadcast Yearbook(BY), WBAP now has their tower off route 287 near Mansfield. On the wall there is a plaque for WBAP, an "Award of Merit", for their 25 years of affiliation with NBC for 25 years from 1926-1952. There are also several awards given to WBAP from the Texas "AP' Broadcasters. Also a poster that reads, "WBAP News Mission Statement É News is Comnunication, Fair, Accurate, Timely, Unique, Dependable, Proud É WBAP News: The desire to report, the ability to excel." That's my motto also! A 21-year veteran of WBAP, Roger also introduces us to Mark Davis, 9 AM to Noon, Talk Show Host and Steve Cumming, News Anchor and Arts Reporter. Signing on the air March 8, 1949 (BY), KSCS, or "Silver Country Stereo", was named by Don Day who worked at WBAP. KSCS transmits off then WBAP, now KXAS TV 5 tower in Cedar Hill. Five years ago, only WBAP and KSCS were here. Since then, ESPN 103.3 and former "Memories 96.7" were added. I'11 add that it was a pleasure to be at WBAP! For more info, log onto www.wbap.com.
While the others return to the ranch, at 3:30 PM I'm enlightened to find Dallas' Salem Communications stations at 6400 North Belt Line Road in Irving. Originally, I planned to find most, if not all, Dallas' AM stations, but my compass will only point to the group here which are KSKY-660, KWRD-100.7, and KLTY-94.9. With Southern Gospel music and Christian Teaching Programs, KSKY is licensed to and has their towers in Balch Springs. Currently, KSKY's power is 20,000 watts directional days using 3 towers and 700 nights directional nights using 4 towers. A native Nebraskan and a true Cornhusker fan, Chief Engineer Brian Heise notes the true physical location of KSKY's towers are located north of Dallas and east of I-35E in Lewisville. "The mother station" notes Brian, "The Word 100.7" is licensed to Highland Village, but "rimshots" with 100,000 watts in mono about 60 miles north of the studios off a 2,00foot tower in Collinsville, Texas in the Ethel area, located near Gatesville, Texas in the Fred area! Brian's third station, KPXI-100.7, is a repeater for KWRD and is licensed to Overton with a tower in Troup in the 'F' area about 100 miles east programming to the Tyler, Texas market. Next door in Suite 120 and under separate engineering is KLTY licensed to Arlington, 'the daughter of the mother', transmitting from "The Hill" Cedar Hill and programs AC Christian music, 'the mighty KMTY'! A native of Dallas, KSKY Program Director Gordon Griffin lived 5 years in Houston and was influenced by KILT-610 in their glory days and actually got his start in radio at KSKY at age 17.
Signing on the air September 28, 1941, KSKY had locations in the Stoneleigh Hotel, on John Carpenter Freeway, and was acquired by Salem nearly three years ago and moved here two years ago. With all new equipment, Gordon has at his disposal a touch screen, digital editing, and any music on CD. He laments of not having any turntables to acquiring any Southern Gospel music not on CD. KSKY has programmed religious talk and music for 41 years and will have a celebration concert honoring their 62 years on October 4, 2003. The station also has an extra room for more possible aquisitions. KSKY also programs sports carrying Nebraska football brokered by 'KNTN', the North Texan Nebraskans, "Go Big Red!", Dallas Sidekicks soccer, Southern Methodist (SMU) men's and women's basketball, and South Lake Carroll 5A High School football, 'sports that are all in the family'! While in our discussion, a promo ran for the Nebraska-Oklahoma State football game on August 30. Both radio enthusiasts, Gordon donates several KSKY shirts, hats, pens, and 'blessings' for the NRC Auction. With promo vans, KLTY and Christian Talk "The Word to the World" KWRD, outside, I am 'blessed' to have met Brian and Gordon! KSKY even has new QSLs and will respond and their site is www.ksky.com. "I get a high when I listen to K-SKY!" (To add, Salem's main office is here also in Suite 210.)
It's Friday evening around 6:30 PM and Luigi has just delivered about a dozen pizzas in the NRC Welcome and Registration Room where the contest was to see who could eat the most pizza in eight minutes! "Who Ate the Most on Eight". Our dinner was sponsored by WFAA TV 8! Highlights on the news at 10! Later in the evening there is a double play as some members watched as the Texas Rangers were outnumbered by the Minnesota Twins 8-5 while others listened to WBAP's Gary McNamara's Talk Show highlight and promote the NRC from 8-9. At 8:30, Gary's special guest was the 'Rochester Radio Rapper' and then soon-to-be father, Scott Fybush! There were even highlights of the show on the big board during the Rangers game at The Ballpark in Arlington! Reminded of a standard rendition from Monday Night Football by Dallas Cowboy quarterback Don Meredith turned broadcaster, at midnight, 'we turned out the lights, the party is over!'
Saturday, August 30, 2003, a bright, another delight, a shakin' and a bakin', a world record breaking NRC Convention Whirlwind Day in Dallas began! We hit a homerun with four tours during the morning and afternoon. At 9 AM our wagon train settled and was accepted at 2002 Academy Lane, the home of DXAS's friend, TM Century. Here, Tom Cusic, Studio Manager, greeted our group with, "blasts from the past, today's hits everyday, and more than ever before," tunes, cuts, and jingles that makes TM the foremost jingle supplier to Dallas, the nation, and the world! Even Mars, PA that is. TM century, named for founder Tom Merriman, provided 53 'cuts' or jingles to WNRC and DXAS.
Here since 1982, Tom first leads our 30 member group to the impressive recording studio. He mentions that TM auditions people from various backgrounds like writers, vocalists, and musicians mostly on a part-time basis. They're hired mostly from the Dallas area for whatever type of jingle TM needs that week. TM usually records 10-15 cuts per station on an average of 15-20 clients/stations per 52 weeks a year. Locally, some of their clients are KLUV, KSCS, and KVIL while in Pittsburgh, its WWSW or "94.5 3WS." Approximately 95% of TM's busiiness and sessions with clients are done over the phone. An amount of $500 is normally charged per cut. TM will record any sound a station wants like they're doing presently, a barnyard edition, "wild country", featuring pigs, goats, and snakes! TM will also record in any language for stations around the world like Cantonese, Latvian, German, and English! They even supply packages for Armed Forces Radio. In the control room is the $180,000 ten-year-old Euphonix 2000 Console board with hundreds of buttons and switches with 6 inputs per channel. Impressively, the board also repairs shirts, controls the local DART (Dallas Area Rapid Transit) System, and makes chocolate milkshakes! In the back of the room is compressed insulation while in the front on the wall are two large insulated front end speakers with a TV monitor in the middle. Here, Tom plays an oldie package that TM is currently producing. Noticed earlier on a music sheet are notes of a jingle for CFQX-104.1 Selkirk, Manitoba, a country station in the Winnipeg market. It was not true that we inserted WNRC instead of CFQX! Also, on the walls between the studios are "CD plaques" of various stations and logos. For more info, log onto www.tmcentury.com. As we thanked Tom and recorded our own jingle, we should also thank and recognize that great voice of Charlie Van Dyke on WNRC and your local station and WNRC'and DXAS's friend CEO Dave Graupner, thanks, "we salute thee KTMC!".
Next, over the river and through the woods to ABC Radio Network's house we went. At 11 AM we circled the area making our second visit in north Dallas at 13725 Plontfort Drive. Inside this large complex is a waterfall, an atrium, and even Mickey, Daffy, and Goofy revolving about, but no sign of Pluto! Assisted by Dan Perryman, our host is Bud Buschardt, Program Director for the ABC Stardust Network, one of nine networks here. On the wall in three by three order are the ABC Network logo plaques. Starting at the top, there is"Radio Disney", "Classic Rock", "Pure Gold", then "Star Station", Country Coast to Coast", "Hot AC", and at the bottom, "The Touch", "Stardust", and "Classic R&B.;" And now,"here's É the rest of the story!" On another wall are plaqued photos of ABC personnel posing with national celebrities. Now, "stand by for -the news!"
Let's begin with Radio Disney which is still growing, a network of 57 stations. Excluding Detroit and Washington, DC, Radio Disney is in 18 of 20 large markets, 41 out of 50 markets, and currently covers 62% of the nation. Locally, with the studio here, there is KMKI-620 licensed to Plano. Meanwhile, still no sighting of Pluto! Earlier, an announcement was racing through and on the front lobby message board that Disney has a new and first large market FM station, WXIR-98.3 in Indianapolis. It's the wish of ABC that Radio Disney reach 70% saturation so they can attain a level like Nickelodeon. This way they can sell programs to Large advertisers like Coke, Pepsi, and McDonald's, "taking dollars from other agencies, not from radio." Radio Disney is even programming into South America and Britain, but not Canada. That's because of a percentage requirement of Canadian songs to be played. Their target audience is 6-11 year-olds with those ages even doing some on air work for RD, but no one over 14, because of the young audience, will be hired. There are also two morning teams programming from 5-9 and 8-11 for the 5 U. S. time zones. In a 'zone' like a 'speeding bullet', in the main Radio Disney control room is a 'rapid-fire' personality "Ernie" Mart'nez! Catching his breath, Ernie takes a break to welcome us and mentions he is really caught up in the Disney hysteria and has been here since 1997. In the words of Daffy Duck, "thay tho goth Thernie!"
'Over there, over there' is the control room for "The Tom Joyner Morning Show,"The Tom Joyner Movin' On Weekend Show", and "The Doug Banks Morning Show." Known as "The Fly Jock", Tom Joyner for eight years did a morning show in Dallas and then flew to Chicago to do an afternoon show five days a week! I remember that for a long time, neither station knew about this! With some 'reservations', when Tom finally gave up this aeronautical escapade, American Airlines gave him his two passenger seats, as they are now in his control room! A question was asked of why is ABC Radio based in Dallas? The answer was when John Tyler created the Satillite Music Network, he based it in Dallas. Later, when ABC aquired SMN, they decided to base all their networks here. Now, we 'fly away, fly away' to the Stardust control room. Stardust is almost totally automated, run off Audiovox, but does have contests that keep the staff monitoring the network. Just as we came to the noon hour station break, in the background we heard another town's local ID, "…(1220) WERT Van Wert (Ohio)?" National news comes off two servers, one from New York at the top of the hour and a tone at two minutes to cue for local news, or a second server for three more minutes of national news. For more info, log onto www.abcradio.com. On a banner on the wall, you can, "Find your station at RadioDisney.com". Thanks, "a har har," a lot, "a har har," in the words of Goofy, to Bud, Dan, and Emie! Good day!
At 7700 John Carpenter Freeway or route 183 along the north access road just west of downtown Dallas we nailed down our third visit to Hispanic Broadcasting Corporation's seven stations. Our group was 'sawed' in half as some had lunch or rest while others came here. At 12:45 PM, in the back of the two-story office building with a basement are remote vans, painted brightly for the FM's. As for the seven stations, there's Ft. Worth's KESS-1270, a regional Mexican repeater for "KESS La Que Buena 107.9" licensed to Lewisville, Dallas' KHCK-1480, a repeater for "Tejano & Proud KHCK-99.1" licensed to Denton, "the number one Spanish station in the Metroplex" Ft. Worth's KLNO "Estereo Latino 94.1", licensed to Benbrook KDXX "Amor/Romantica 107.1", and finally in the Waco market licensed to Robinson Regional Mexican KDOS-107.9. Our tour guide is David Stewart, Director of Engineering, who notes that 1270 and 1480 do break away from their FM's to carry other programning like sporting events on 1270 including the running with the bulls in downtown Ft. Worth! Dave also mentions that HBC is the result of a merger of two family companies, Titsner Media and Peptell Broadcasting. Also, Titsner had been in Dallas since the late eighties. Now, the HBC corporate offices are at 3102 Oak Lawn in Dallas. For a good while, there was some public confusion as to which station was where as it took six years to combine all operations here. Plus, adding to this was the previous location at 7901 John Carpenter of the three Infinity/CBS stations including KRLD across the street before they moved into The Ballpark. Dave also covers several topics before the start of our tour. HBC owns this building which is built solid and could be used for a bomb shelter. Their number one station, KLNO-94.1 transmits from the Cedar Hill site.
Meanwhile, our DADs (my acronym, Dallas Area DXers) printed two colorful maps, one an enlarged DFW Area AM Transmitter Locations, the other a Dallas AM Transmitter Location. On the DFW map, 1270 has their site near Pantego just east of Ft. Worth while 1480 has their site near Hutchins south of Dallas. Regarding HBC, they have a 17-city U. S. market with 65-70 stations with a goal to be in 20 Hispanic U. S. markets, As Dave mentions, "more is never enough!" Also, he says that HBC is pending an ownership acquisition by Univision, but some stockholders are opposed. There is an FCC ruling now that Hispanic U. S. stations can ID in their own language. Finally, Dave remarks that he regards TV 8 as a "class orginization."
Now on our tour up to the second floor we find the studios of 99.1 and 107.1 plus at KLN0-94.1 we meet Mary, a pleasant air personality who's been in the U. S. for 24 years. In the basement at KESS-107.9 we meet an energized Mexico City native, pronounced "J.C. Boye", who's been here for 2 months and 11 years in the U. S.. We also hear that each station has intercoms to communicate with each other. Our communique is "gracious Dave and HBC!" For more info, log onto www.netmio.com. (note: KESS-1270 carries Rangers baseball in Spanish).
"85 degrees at 3:03, good afternoon I'm Katherine Holtryl, KRLD News. Here's what's happening…(the National Radio Club has stopped by making their fourth and final tour of the day here at KRLD)." Home to the Texas Rangers inside The Ballpark in Arlington at 1080 Ballpark Way we're 'rounding third and heading for home" to KRLD Newsradio 1080 Dallas! We're inside KRLD's showcase studio which was designed to facilitate either all news or a number of guests. Surrounded by several microphones around a large desk, the concept was for the desk to resemble a baseball glove catching a baseball! "KRLD Fever, Catch It!" Except when the Rangers play, KRLD is All News from 5 AM to 10 PM. They're also the home of the Texas State Network. Our 'usher' is Erik Disen, Director of Engineering, Southwest, for Infinity-owned KRLD. With the group are 5 FM stations, three located north of downtown off route 75, the North Central Expressway, KLUV-98.7, KVIL-103.7, and KOAI-107.5 and two at John Carpenter, KRBV-100.3 and KLLI-105.3. First on 1040 kc, the (K) Radio Laboratories of Dallas has been on the air since October 1926. For more info, see DXN Volwne 70 #29 page 21 or log onto www.krld.com. KRLD's transmitter site is located about 15 miles northeast of downtown Dallas, a two-tower array, which I did find the following day. This site was built in 1938 and sends the 50k directional signal northwest and southeast at night covering 106 counties protecting Hartford's WTIC-1080. KRLD's weekday programming lineup consists of many local news shows with sports and weather updates and "Texas Overnight with Charley Jones" from midnight to 5 AM. Of course during baseball season there's "Texas Rangers baseball on KRLD." On the weekend there are many consumer, informative, and entertaining shows like "When Radio Was" and also on TSN, "The Lost Tapes" on Saturday night from 10 to midnight, hosted by one of our speakers tonight, George Gimarc, www.gimarc.com. Also, weeknights at 6 there's Business News for a half-hour and after baseball season, there's "Marty Griffin Consumer Crusader" from 8-10 and CNN Headline News 10-12. With "The Ballpark" opening 4/1/94, KRLD, with voice Eric Nadel, carried Rangers baseball 9 years with a 45-station network. KRLD "news is number one" boasts Erik Disen, pronounced "dee-sen", as he also mentions that the Dallas Moming News (paper) gets some of their "news from us." That's news to us! KRLD's large studio and office complex located inside The Ballpark behind centerfield is a DXers and radio fan's dream of what an AM large market station has to offer. KRLD lettering is everywhere on signs, in blue neon lights, and on Broadway! Their front doors and facade is a beautiful and impressive sight. The double doors are encased in steel supporting painted green surrounded by large marble block and red brick above. Also, above the doors embedded in stone in bold lettering are the "KRLD" call letters. Even the front lobby is impressive with thousands of small white and black tiles spelling "KRLD" and"TSN." Where Radio Loves Dallas, our 20 member tour thanks Erik. "The Bold and the.Beautiful, KRLD!"
We're back at the `ranch', the Holiday Inn, at 6 PM for the group photo in the Hospitality Room, 'vittles' and good times, opening welcome remarks by Wally, three very entertaining speakers, and the NRC Business Meeting and Auction. Accompaning our 40 members and guests is our "NRC Shutterbug", Rosemary Wawro taking our photos for the group. Thanks for the 'cheeeese' cake, Rosemary! Our meal was good and our good times of meeting new and old faces was 'grrreat!'
First, we meet new faces, the "Washington KINGs", Decalcomania's Phil Bytheway of Seattle and Tacoma's Pete Taylor. Phil is our farthest attendee, but he was close to the microphone, like a Las Vegas entertainer, hosting our NRC Auction. Pete's 'claim to fame' was that this convention was a 50-year milestone, the one before in 1953 in Wheeling, WV! Also, the 'wheels were turning' when John Callarman mentioned Pete was his boss from 1967-70 up in Massachusetts! Good friends Mark Erdman, currently PD at Christian station KJRL-105.7 in Herington, KS, and Jim Wiskow of Arcadia, WI enjoyed the Texas 'Sonshine' while Texans Dale Hamn, our '98 NRC host, Gary Ketler of Austin, our DX Quiz winner, and Joe Shaidnagle stayed home here in Dallas. A man with two homes and former Nebraskan, John Sampson stopped down from Grand Rapids, MN, his swmner home, and leaves when the crow flies, or snow, to Sun City West, AZ. And John and Linda Bowker, our able and friendly NRC 2003 registers, thought they were the only members that lived in a 'Sun City' town! Unlike his town's name, a smiling and former 'Aussie' by way of Brisbane, James Niven of Moody, TX was glad he came! We also met Mark and Lina Jones from the bayou country of Alexandria, LA. Feeling young at heart, Mark is General Manager for oldies KEZP-104.3 licensed to Bunkie, LA in the Alexandria market.
This just in! It was 50 years since John Callarman last saw Pete Taylor at an NRC Convention. Another news flash! Chris and Stephanie Cuomo of Birmingham, AL made the trip here despite a leaky car, the radiator, 'Roll Tide' ! Finally, let's salute all our attending members, but especially our closest attendee of nearby Irving and all of a young 88, Burney McClurkan. We last saw Burney five years ago at San Antonio, and if you multiply those years by four, this is the amount in dollars Burney donated to the auction! Thanks Burney and thanks also to our other welcome guests, Those guests were our three speakers and Bud Buschardt of ABC, Dave Stewart of HBC, and Sir Walter Raleigh of the BBC! Finally, thanks for attending to Assistant PD at KLUV-98.7 Jay Cresswell. Five years ago with my visit at KLUV, Jay was the person I did not meet. He, John Summers, and legendary Chuck Brinman have been at KLUV, but all were former Pittsburgh air personalities, then answered the Dallas personals, and now will meet you person-to-person! And you need only to say please!
Next,this was very pleasing to hear our three speakers from the Dallas area, George Gimarc and Pat Reeder, with wife Laura attending, and Steve Eberhardt. First up is the team of George and Pat, but first a thumbnail sketch of George, just a small one. A radio historian, George worked for 18 years in radio, was one the first jocks to bring 'new wave' or 'punk' music to commercial radio, started and had the first classic rock station in the U. S., KRQX, in 1982, formed his own company, and is president of Reel George Prod., Inc., has collected over 65,000 records and knowing something about each one of them, and now hosts "The Lost Tapes" Saturday night on KRLD and TSN. His website is www.gimarc.com. With his company serving as an umbrella organization, George wrote "Punk Diary 1970-79" and combined with Pat Reeder to write "Hollywood Hi-Fi", which is the "ultimate guide to weird celebrity records.' These "crash test dummies" listened to "this stuff" so you don't have to!" However we did, and 'awwway we go!" Like a comedy team touring colleges, George and Pat began with, "Greetings broadcasters and those who abuse them!" Then they played several celebrity records and here's a few. First, a record that was purchased for 'free", a recording that Bette Davis released in 1952, "On Broadway", well 'no way!' Next, in 1957 Robert Mitchum released this albwn, "Calypso Is Like So", 'oh no!'. Now a pause for the cause, 'Cause we should gast tell you about Pat Reeder, a major market DJ and Production Director at KLUV and TM Productions. George and Pat began their friendship in college. They even formed a new station there, KSHK, the 'School of Hard Knocks!' Also, Pat and wife Laura for the past 11 years have been co-writers now for a daily syndicated senrice, "The Comedy Wire." Laura is also the star of the show, "My Ship Has Sailed." Now we sail off to our show! A young Joe Pesci released "Little Joe Sure Can Sing" and I need 'a rock and a sling!' Raquel Welch released a cut, "Ready to Groove" from the movie soundtrack, "A Swingin' Summer" in 1965 and of course the song 'took a dive.' Finally, Mae West in the early seventies sang-a rendition of "Light My Fire" by The Doors, well somebody 'cut the wires!' Except for George and Pat, thanks for 'this 'n that', you really know how to 'chew the fat!'
Next, "The History of KLIF" from the website, presented by veteran north Texas DJ Steve Eberhardt. At a youthful 15, Steve began his broadcast career at KGAF-1580 Gainesville, then moved on to then KIKM-1500 Sherman, then to the big time at KVIL, KLUV, and KDMX-102.9 in Dallas. Steve is now heard on ABC's Starstation Network. However, Steve had been influenced by the "Mighty 1190″ and in 1998 created this site which follows closely the rise and fall of Gordon McLendon's 1190 KLIF. Steve had noticed that there were websites for legendary Top 40 stations, but not for the innovative KLIF, thus the site. Now, almost everyone comes calling like magazines and newspapers for information, radio personnel for their interest, and even a Hollywood screenwriter.
Now from his speech, Steve presents a summary of the history of KLIF. With a fascinating interest in radio, Gordon McLendon and his father petitioned and received a license for a station on 1190 at 1000 watts daytime only. They picked the call letters, "KLIF", from the town they were based in, Oak Cliff, Texas. On November 9, 1947, KLIF signed on from the Cliff Towers at 329 East Colorado. By 1950, Gordon and his dad wanted something better, so they formed the Liberty Broadcasting Network and by 1951 KLIF and the network had 458 affiliates. Some of the infamous firsts was wire service reports of baseball games recreated by KLIF. In 1952, even though KLIF was doing well, the Liberty Network went bankrupt. In 1955, KLIF was one of the first stations to create Top 40. In the mid 50's and for several years later, McLendon and KLIF created unique programming, and new ideas was priority number one. They were one of the first stations to have jingles and reverb. Local personalities later became national media stars like Tom Synder and Rod Roddy. As a music station, KLIF also wanted to be a news station having time tones on the hour, teletype in the background,-and fast-breaking news with 20 stories in 5 minutes after the hour, "getting it fast and getting right," with news first before anyone else. Indirectly, KLIF pioneered contest rules for prizes. The locally famous, "Coke bottle prize" incident was for any listener would win $50,000 dollars if they found the bottle had most of the Dallas digging up people's lawns! Now, no radio station can have a contest that will deface public or private property. Technically, KLIF went to 50kw days and 1000 watts nights in 1959. In 1961, McLendon added an FM station, "KROW" at 98.7 as he liked call letters that were distinctive words. In 1963, the FM switched to KLIF, then KNUS in 1967 with visions of a news station. In 1970, KLIF-1190 went to 5000 watts at nights with 12 towers in Rockwall, but the night signal still has gaps serving parts of the Metroplex. Eventually, McLendon sold his station and the calls are at 570-KLIF. Thanks to Steve for `selling' us on his great information from his `KLIFnotes!'
Next, in our `mini-me' movie theatre style setting, it's the NRC Business Meeting and Auction. First the meeting hosted by DXN Editor Paul Swearingen. Our 24th NRC AM Log Book is ready for purchase and still priced at $19.95. The club is in good financial shape with a KNBR amount of members (or 680) or now were tuned to WFAN, 660 members. In addition, there are 100 DXAS members including 9 in attendance here! As DXAS was created in 1985, a third service will be added in October, webcasting of DX News, and for sure to be ready by January 2004. The cost of the membership to this will still be the same, but it is with hope this new service will attract more distant DXers as the NRC only has one in the south Pacific. This service will also appeal to some of the current members. The DXN will have a contest starting in volume 71 as members can win $5, $10, $15 dollars which could be used towards purchases from the NRC Publications Center.
We now pause for a word from our sponsors! This NRC Dallas 2003 convention, as the well designed vinyl banner in the meeting room suggests, is brought to us by WFAA TV 8 for monetary donation, TM Century for goodwill and support of the NRC, Crouse Kimzey Broadcasting Supply for loan of Comrex digital phone codes to enable us to stream audio to Webcasting, Inc., Webcasting Inc. for Internet streaming of convention activities, and WBAP-820 for assistance with club publicity. Also, thanks to the Holiday Inn for handling our appetites! Now back to our show.
Next our presenter and NRC video expert Emie Wesolowski with the member of the year award. And the Emmy, err, NRC Award goes to John Callarman! John, 47-year member, wins for "appreciation for (his) labors for typing up the early NRC AM Log Books." Thanks for putting out John! Also, Ernie is saluted in a full page in the convention booklet, since his first convention in Omaha in 1959, for his kindness, friendship, involvement in club activities, and visually recording each convention when he first began doing this. Thanks Bert, err John, and Ernie! Thanks also to club members whose photos appeared on the back of the convention program for support and spirit of the club. They include NRC Publication Chairman Ken Chatterton, DXAS Editor Fred Vobbe, DXN Editor Paul Swearingen, DXAS Travelog voice, NRC Registration Greeters and Auction tabulators Linda and John Bowker, outgoing AM Switch Editor for 18 years Jerry Starr with wife Bonnie, and two-time convention host, John Malicky. Also, thanks to John Callarman for his nostalgic pages of his QSLs of local and Texas stations from 40 years plus past. `Thanks for the memories' John! Thanks to John also for a full page mention of past NRC conventions beginning in 1934, the 1940 convention in Erie, PA and the first held over the Labor Day weekend, and in 1955 at Cedar Rapids, IA, the first to be held at a hotel. And, thanks, with a full page ad, for the 71st and 2004 convention to be hosted by "Your NRC 2004 Planning Committee", WNPC, Jerry Bond, Saul Chernos, Greg Coniglio, Scott Fybush, and Jim Renfrew. If you can't stand the heat, get out of the KITChen and "Come home to Western New York for NRC 2004!" Tours for WWKB "KB Radio" 1520, 1180-WHAM, and listen to the return of "WNRC AM" Radio are just some of the highlights from our 2004 show to be held at the Days Inn in Batavia, NY. `Go to the fork in New York in `04′ and `The best tours and more at NRC `oh four!' And this just in, Scott's a proud papa, Ariel Fybush, weighing in a WBEN like 9.30 lbs! Congrats! Note, this was an estimated WAIT.
Finally our NRC Auction with auctioneer Phil Bytheway totaling $707.60 highlighted by a purchase of a Crosley Collector's Editon AM/FM cassette receiver! (And EVERYONE took home a t-shirt!) Good night!
Sunday, August 31, 2003, our final day, and we begin with `breakfast with Tiffany', the DXAS Travelog with John Bowker featuring 840 khz to be heard in January 2004 on DXAS, NRC interviews with John, and the NRC DX Quiz hosted by the `professor' Bill Hale. The interviews with John featured Ken Onyshuk for his sports reporting on DXAS, two `good sports' Phil Bthyeway and Pete Taylor, a John Callarman profile, and `profiling' the career of Jerry Starr for his 18 years of editing for AM Switch. Congratulations to Jerry from the NRC! Also, Bill Hale speaking about switching to AMS from DDXD-West and mentioning that west coast member Harry Helms moves over to Bill's old spot. And with that,'we're movin' on up to the east side' of downtown Dallas WFAA TV; 8.
It's high noon, the place, downtown Dallas, the location, 606 Young Street, the building, the Communications Center, the visit, ABC affiliate WFAA TV 8 Dallas, "The Spirit of Texas", and `drawing' upon our notes, we're `fired' up for the tour! With a thirst for more `news', owr `directors' have a combined 52 years of experience at WFAA. Inside, we meet 30 year vet Gerry Cadigan, Chief Director, and Wally Wawro, TV Audio Specialist. Inside the reception area on the walls are a remarkable historical photo account of WFAA TV and radio beginning in 1922 to today. "Working For All Alike," WFAA radio signed on the air June 26, 1922 from a 9-foot by 9-foot shed atop the Dallas Morning News Building, the first one, at Commerce and Lamar. The owner was and still is the A.H. Belo Corporation named for Alfred H. Belo. As of today, Belo Corporation is still the longest continuously operating company in Texas. In 1845, A.H. Belo started the Galveston Daily News, and, looking to expand, he chose the growing Dallas area in the mid-1870's. Here, he formed the Dallas Morning News. Looking to establish a second communications entity, Belo and the DMN received a license for WFAA. When WFAA signed on, their power was 50 watts operating at 252 meters, but in 3 months increased to 500 watts. There is a marvelous photo sketch in the lobby of WFAA having erected 2 towers with 4 wires running between them. The towers sit on the Merchantile and Katy Buildings in downtown Dallas, the wires serving as the WFAA antenna. This increase was announced by Belo President George Bannerman Dealey. Dealey was a long-time president of Belo from before 1906 to the 1940's. His words from 1906 are chiseled in stone on the DMN Building and still hold the ideals of the newspaper, "Build the news upon the rock of truth and righteousness; conduct it always upon the lines of fairness and integrity; acknowledge the right of the people to get from the newspaper both sides of every important question." Below this, there's a heading, substituting `members' for `people' and `bulletin' or `tape' for `newspaper', attributing this quote also for the NRC and DXAS! This is the second DMN Building opening in 1949 at 508 Young Street. Dealey, recognized for his leadership in the community, has a plaza named for him downtown, the Dealey Plaza.
As for WFAA, on May 10, 1930, they were granted a power increase to 50kw making them the only newspaper-owned `super powered' station in the country. This was accomplished by WFAA running a single wire to two newly constructed 700 foot towers in Grapevine. At this site, WBAP also added a tower to complete what would soon be a shared-time agreement. When DFW Airport was built around 1973, the Grapevine site had to be relocated to North Lake just east of the airport. Three towers were again established, but WBAP wanted out and relocated to Mansfield. Meanwhile, in 1936 WBAP acquired the license to 570 from then KGKO in Wichita Falls, TX and moved it to Dallas. WFAA also had ideas of acquiring interests in 570 in 1940. However with their old frequency, the then FRC (Federal Radio Commission) `forced' both stations to share equal time on 570 and 820. Amon Carter, owner of Carter Publications which owned the Fort Worth Star Telegram and WBAP, was against this agreement as was Belo, the Dallas Morning News, and WFAA. Though one could say this was a `newspaper power' agreement for both stations as soon WWII was just beginning. Also, the calls KGKO were used for a short time. This sharetime arrangement began on September 1, 1940 and would last almost 30 years! The end came around March 31, 1970 as the now FCC agreed the stations could split, giving each a choice of which frequency. WFAA chose the lesser 5000 watt frequency with less range, but more cost efficent as WBAP chose 820 because they said, `We're Big And Powerful!"
It's interesting to note that I have QSL's from each operation. WFAA-820 was confirmed on February 21, 1970 while WBAP-820 was confirmed on October 17, 1970 as the WBAP-570 box on the QSL is crossed out. Each station was also affiliates of both ABC and NBC, then with the split, WFAA went with ABC and for a while CBS while WBAP went with NBC. It's also interesting to note that KRLD was a `Dallas Times Herald Station' as printed on my QSL card from them confirmed January 1970.
While at WBAP on Friday we saw a framed front page of the Times Herald on the wall with headlines in bold print mentioning the end of 112 years of service in Dallas. As for the QSL's, to those few who do remember, Charlie Van-Program Manager, with the name in print was my verie signer for WFAA.. On the front of the card is an artist's rendition of the WFAA AM-FM-TV Cormnunications Center. James A. Byron, General Manager signed my WBAP card. Returning to WFAA, in 1941 they moved into studios in "The Penthouse" atop the Santa Fe Building in downtown Dallas on Jackson. The building has since been converted to loft residences, but the painted call letters still remain. `A new era dawns for Belo and WFAA.' This phrase best describes how Belo, with its popular radio outlet, wanted to establish a third communications source. Cue the curtain rising for Wally and Gerry! In 1949, an oil baron, local resident Tom Potter, acquired the license to sign on the air television station KBTV on September 17, 1949. Within six months, Belo became involved, acquiring the station in February, 1950, renaming it WFAA-TV, and moving the operation to 3000 Harry Hines Blvd., a new facility in downtown Dallas. For 10 years, innovative WFAA-TV operated from here on channel 8. In 1955, WFAA and then KRLD, now Fox affiliate KDFW, TV 4 agreed to build and share a massive 1,680 foot tower located in Cedar Hill about 20 miles southwest of Dallas, though still in the county. Located in probably the highest land around, the nickname became "The Hill", or `Jack `n Jill's. With the equally-owned tower came the property and an entity, The Hill Tower Company. A distinctive feature of the tower was that RCA built a `candelabra' on top of it so that no station would be lower than anyone else. Instantly, both stations had superior coverage of the Metroplex. The other station in the market was then WBAP, now KXAS, TV 5 in Ft. Worth, owned by Amon Carter. Mr. Carter felt no compulsion to move his tower located in the Ft. Worth area. However, when his network, NBC, found out about `The Hill' tower, they ordered him to move TV 5 onto it or they would pull their affiliation. Several years later in 1987, with `The Hill Tower' located near a decommissioned naval base, some `jet jockeys' flying around foolishly buzzed the tower, snapping a guy wire. The tower shook for four days before it was determined the situation was too dangerous to fix the antenna, so a new one was built in 1989. The new one, with approximately the same height, kept TV 4 and TV 8 on it, but TV 5 moved off. With new technology this, in Wally's words, "amazing" new tower is strobe-lit, not painted, and is an impressive sight, especially at night, `like a very thin and large Christmas tree!' The first tower still remains, is down to 1100 feet, and serves as WFAA's backup. Of course, many local FMs are on the new tower.
After ten years, in 1960, WFAA decided to consolidate building the now present Communications Center in downtown Dallas and combining TV and WFAA-570/820. A year later, WFAA and Belo received a license for 97.9, now KBFB "The Beat", signing on WFAA-FM. Thirteen years later, WFAA-97.9 became KZEW or "The Zoo" because Belo wanted entertainment and acquired a circus! Actually KZEW, "The Zoo", was the first album rock station locally with our Saturday night talent, George Gimarc, being one of the jocks. Interesting that now at TV 8, Wally's room was at one time the main control room for 570/820, the room across the hall was the talk studio for 570, and on his side of the hall was the KZEW studio. When WFAA left the building at Harry Hines Blvd., public station KERA TV 13, which signed on September 13, 1960, moved in and later received a license for their FM, KERA-90.1, in July 1974. Owned by the North Texas Public Broadcasting Company, they've added a channel 2 and still remain to this day at that location. The front still almost looks the same from one of the photos in the WFAA lobby as my drive by later this day on Sunday will attest. As for affiliation, TV 8 started on the Dumont Network, signed with NBC within a year, then with ABC, and in 1957 dropped NBC, becoming an exclusive ABC affiliate while quietly becoming the area's number one TV station. This number one ranking has remained into 2003. This is evident as the core of the television station has remained here for years including production, the main news anchors since the early 1980s, and the weatherman Troy Dumgin since 1976. By 1985, one could say that when TV 8 and 570/820 had their `baby' at 97.9, TV 8 or Belo `filed for divorce' from radio selling off those interests. Belo wanted to go in a different direction. Within a short time, they acquired 19 television operations around the nation including KING-Seattle and WWL-New Orleans. 570 soon was known as KRQX in 1986 and eventually `570-KLIF.' (Note: weatherman Troy has 195 ties!)
`WFAA TV 8, standing alone and proud.' With the Communications Center, the microwave tower with the WFAA calls, lit at night, serve as a beacon for anyone in downtown looking for the station and as a marker. On our tour, Wally and Gerry lead our group, `the dirty dozen', through the impressive complex. Here we find the main news studio with a group photo and the main control studio for video. Gerry mentions the video and audio studios are mirror images of each other. On the wall in the video control room are 80 monitors which are all on during any news slots. WFAA prides itself as being `the first TV station on HDTV on the VHF band' in the nation occurring in 1998. WFAA runs an analog signal on channel 8 and digital on channel 9. WFAA has 6 mobile news units and 2 satellite trucks. The control rooms become extremely hectic especially during election coverage. They have 6 tower cams monitoring traffic and conditions around Dallas. As for news reporting on site, as with any large market or smaller TV station, reporters hear their audio in real time off a dial-up phone fed audio, an IFB, with a line running into their earpiece. In studio, directors are responsible for how you see the news cueing cameras one, two, or three while the producers control the content of the newscast. When the crash of the Challenger occurred in March 2003, WFAA was in their normal 7-9 AM Saturday morning news show showing the flight. The first video nationwide came from here as a normal `skeleton' runned weekend station soon became filled with just about all working personnel.
In 'Wally's world', in his control room, he produces all of the audio for promos and commercials on a `screen sound" digital audio board which will be replaced within a year. Currently on this nine-foot console, he's working a promo of "7 songs in 15 seconds" for a James Brown concert at Nextstage in Dallas, "but don't ask me how it works!" It is remarkable that for local ads, the audio talent is never seen, as a woman may be in LA while a man's voice is in NY. "Setting up video is easy, audio is hard," proclaims Wally adding to the refinement of his skills. While here, he plays audio cuts of local ads and a DXAS NRC Auction sound bite mentioning the high bidder would have their name at the front of a DXAS beginning jingle like "Johnny Callan!" John Callarman explains that when he was at KIXE in Amarillo in 1959, they wanted to shorten his name to Johnny Callan, but the local newspaper still kept it at `John Callarman.' So he got his "arman" back! John's other thrill this weekend was the pleasure of driving four DXAS members to the various tours. And he didn't even get a tip! On Gerry's side, he shows us a non-linear editor, about ten years old, which has about 2 hours of memory and lets him edit Betamax, one-half-inch video, home video, and does all the the conversion to Internet quality to beyond HD. "It lets you expand and compress shots in and out while starting from anywhere on the piece, at the middle, beginning, or at the end." This system, made by an English company, Quantel, is named for King Henry VIII, "Henry 8″, and sold for one million dollars! It has now an "EQ" or `Editing by Quantel" to upgrade it with also a `paint box.' The paint box has over 16 million different colors as Gerry can change any piece like the one he's working on with Sports Director, Dale Hansen. Gerry also explained how the paint line works on TV football games mentioning one camera before the game marks the field at each yard line, with the computer operator in a wide shot, then during the game, the computer follows the movements of the other cameras and sets up the lines accordingly. Gerry also mentioned his `Henry 8′ has capability that no other video or linear editor does. However, we have now had the capability of seeing a truly great television station, WFAA, for all its worth. Thank you Wally and Gerry!Highlights on the tenth month of this year in DXN!
Wrapping up some photo opportunities in downtown Dallas, transmitter sites at 1080, 570, and 1310, plus finding TCU (Texas Christian University) in Ft. Worth and SMU (Southern Methodist University) in Dallas, the American Airlines Center where the NBA Mavericks and NHL Stars playl and the Dallas Cowboy World HQ with `Truax Drive!', we say goodbye Dallas 2003 and hello `and more in `04′ to Batavia, Buffalo, Rochester, Dunkirk, Syracuse, and wherever else in Western New York! 73s!
NRC DALLAS 2003 Attendees: Chris and Stephanie Cuomo, AL; Bob Wein, Mike Sanburn, CA; Larry Stoler, CT; John and Linda Bowker, Mike Lantz and `Lexie', FL; Ken Onyschuk, Frank Merrill, IL; Paul Swearingen, Mark Erdman, KS; Mark and Lina Jones, LA; John Sampson, MN/AZ; Ernie Wesolowski, NE; Bob Smolarek, Bob Antionuk, NJ; Scott Fybush, Richard Lucas, Martin Wishnewitz, NY; Frank Styron, NC: George Greene, OH; John Adams, OR; John Malicky, PA; David Jones, TN; John Callarman, Bill Hale, Dale Hamm, Gary Ketler, Burney McClurkan, James Niven, Joe Shaidnagle, Wally and Rosemary Wawro,TX; Dave Marthouse, VA; Phil Bytheway, Pete Taylor, WA; Jim Wiskow, WI; Wayne Ryan, ON.