1999 National Radio Club Convention
Bridgeport, West Virginia September 3-6, 1999
by: John Robert Malicky; photos by Fred Vobbe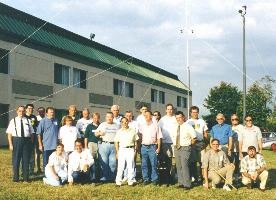 Let's go Mountaineers! and return to (Clarksburg) Bridgeport, West Virginia for the National Radio Club's 1999 Convention! Since we last met here in 1991, a few new members came along with some of the regulars for another hootin' and a hollerin' good time! Again, this year's convention was hosted by our friends William and Brenda Swiger with some help from newly-married daughter Erin and son Eric. The NRC says, "well golly, thank you!Now a little history on Clarksburg and West Virginia. Born out of the Civil War, the mountainous state was admitted to the Union in 1863 with Wheeling as the first capital, which later moved to Charleston. In the northern central area of the state is Clarksburg which was established in 1785 and named for General George Rogers Clark. As the major seat of Harrison County, the town is the birthplace of a major confederate war figure, General Thomas J. "Stonewall" Jackson, charge! Just east of Clarksburg and intersected by major routes Interstate 79 and US 50 is Bridgeport, a small and pleasant community. Class dismissed!
Before and during NRC scheduled events, there were activities and places to experience in wild, wonderful West Virginia! Locally in downtown Clarksburg, two longtime stations still entertained and informed; WHAR Talkradio 1340 with sister WVHF-92.7 and oldies on WOBG-1400/105.7, while over the weekend there was the 21st annual West Virginia Italian Heritage Festival, witha spicy meatballs! South near Weston, WV, the Stonewall Jackson Heritage Arts and Crafts Jubilee occurred, while further south near US route 19 was the New River Gorge National Park and River with scenic views, hiking, and bungee jumping, wowwee! There's more! Roughly 2 hours south of Bridgeport near Cass, WV was the historic Cass Scenic Railroad "rollin' 'round the bend" with 11 miles of remaining track and steam locomotives. Finally, to those interested in finding UFO's or long distant DX, there was the National Radio Astronomy Observatory in Green Bank, WV near Cass. The impressive site has 6 operating telescopes ranging from 20 meters to 140 feet. Plus, under construction soon to be finished was the giant GBT(Green Bank Telescope) with a 100 meter dish. It's estimated that 100 million boxes of Wheaties were needed to fill the dish!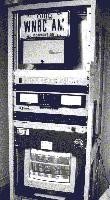 Okay, now on to Bridgeport! To welcome members and others to NRC Bridgeport '99 was the "mouth of the south", "the 50,000 watt blowtorch", "your station of stations", "the queen of the bend", AM 1610-WNRC! This new and improved WNRC was again assembled by DXAS Editor/TV 35 WLIO-Lima CE Fred Vobbe with assistance from member Phil Wayne. This most interesting operation maintained "studios" in the Welcome Room, "The Appalachian" in the fine and elegant Holiday Inn on Lodgeville Road, also our hotel of 8 years past. For the first time WNRC was completely automated and demonstrated the ability of a good automation system to sound local. The system was powered by Wire Ready's "ControlReady" software and was run on a computer running Win95b, an AMD K6-2/300 processor, and a 6.4 gig hard drive. The computer fed a small Russco audio board, then an Innovonics Model 235 audio processor. From the processor the audio was fed to an LPB AM-30 carrier current transmitter with a coupler to the hotel's power system. The system also incorporated a Belar AMM-3 modulation monitor, a Gentner VRC-2000 remote control, and a Broadcast Tools ULN-1616 control system.
Besides the programming demonstration, attendees had the chance to "kick the tires" and test the systems with voice-overs or recording 30 second ID's of their own choice welcoming all to NRC Bridgeport. While many could understand the difference between NRSC-II and non NRSC processing, as well as the issues of processing audio for AM programming, members also gained an understanding on how well a computerized radio station could sound if programmed with local content.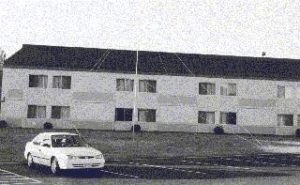 Though the carrier current station could not be received by anyone outside the area, WNRC proved that it was a good example of how great AM radio can sound! Four QSLs were issued with roommate Chris Cuomo's, ex Verona, Pa native now residing in the land of Dixie in Homewood, Alabama, at number one and this writer's at number four for receptions in the hotel.
Now to the hootenanny! NRC Bridgeport's schedule of events were the usual, easy and relaxed, and always most interesting and enjoyable. As in past conventions, NRC '99 was capably assisted by our friends JohnBob and LindaJean Bowker. They coordinated registration, the auction finances, part of the Sunday morning travellog, and even a demonstration on how to skin a 'coon! Friday, September 3rd started with the official Opening Welcome by Aunt Minny, "Howdy!" This was followed by remarks from DX News Editor Paul Swearingen, "What's the best excuse you can use to inform your school district you need to take this first school week off to go to a convention!?" Actually it was, "What was it like to be a DJ with the 'Good 'Ole Boys', err, in the Good Old Days!" Though for most members, Friday's opening day was a chance to make new friends or renew old acquaintances.
Saturday, September 4th in the morning and afternoon was a beautiful day reserved for free time, making visits, "talkin' baseball" and DX, or going out with the bloodhounds to find some varmints! Approximately at 6:15 PM just added to the schedule was a group photo outside the hotel near WNRC's antenna. However, at least 2 members, myself and member Martin Wishnewiz, missed the photo as we were returning from Green Bank, WV and a visit 12 miles south of the observatory to WVMR-1370 in Dunmore, WV. Having confirmed WVMR "West Virginia Mountain Radio" in 1984, the station is "nestled in the Seneca Forest" part of the Allegheny National Forest. As for WVMR, the station coordinates programs for Allegheny Mountain Radio, a broadcast service of the Pocahontas Communications Cooperative, which also has 2 other FM stations, WCHG-107.1 Hot Springs, VA and WVLS-89.7 Monterey, VA with a repeater at 103.5. WVMR, a 5000-watt ND daytimer, commenced operations on August 17, 1981, and is located in an earth sheltered passive solar building. The single-guyed tower is adjacent to WVMR, which must keep interference to a minimum protecting the Green Bank observatory. Community radio in the truest sense, WVMR is an all-volunteer operation, except for 2 or 3 full-time employees. This unique station has an "open door" policy and the door was actually unlocked when we visited. Totally self-supporting, the operations survive on fundraisers and local underwriting with no or little assistance from local, state, or federal funds or grants. There is a variety of programming from old time country, bluegrass, gospel, blues, folk, classic rock and heavy metal, news, informational and old time programs, and new/regular country. Also, when we visited, WVMR broadcasted the network feed of the WVU-East Carolina college football game. We did meet a student board operator, Marshall Shearer, and Caroline "Caroline in the Morning" Sharp. Caroline thanked us for our visit noting of the different little signs in the station, little humorous ones reminding anyone that this is small town radio! Plus, it helps to find WVMR when their little wooden sign off the main road was replaced after having been knocked down by the snow plows last winter!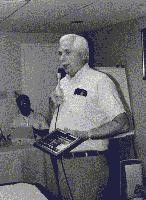 Saturday evening had arrived and the real party began! First, "come and git it, vittles is ready" at a delicious NRC Banquet! Next was the NRC Business Meeting with your hosts, Fred and Paul, and a report from NRC Treasurer Dick Truax. Basically, our club is operating with a positive balance, has sold out all of the 19th editions of the NRC Logbooks, and will have the 20th due soon in October; the membership is stable at 705 with 140 members in the DX Audio Service, and will look forward to entering the year 2000.
The final announcement Dick delivered was that member Mark Connelly of Billerica, MA was the winner of the NRCer of the Year Award for his service to the club, articles, reports, and international DX tips; congrats Mark!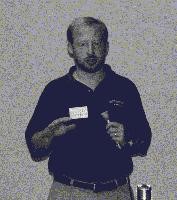 Afterwards, member Scott Fybush, late of writing news for WBZ-1030 Boston, news-writer and reporter for his employer, a cable TV operation in Rochester, NY (hint-NRC 2000 Rochester?!), presented a most interesting talk on his career, the state of AM radio today and in the future, and observations about the NRC and the DX hobby, bravo Scott! Later Scott interviewed me for Radio World about my national and international tours of radio stations which for the first time this year included Windsor and the CBC operations there, Detroit including WJR-760, the Toledo, OH and part of the Charleston,WV markets, and unique stations at WVMR and another the next day at WOTR in Lost Creek, WV.This was the second interview I had that day with the first in the morning at 8:30 AM on 'The Ticket" Sportsradio 1470 WLQR-Toledo with Sports Director Don King, no not the fellow and boxing promoter with the gray spiked hair, but a local host whom I called collect for 20 minutes to promote my number one DX club, the NRC! Photos and a story in a theatre or DX News issue soon, I hope!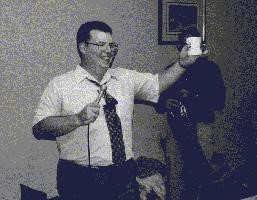 "Anyone using AM radio call letters for a bid 'WLW-$7.00' will be charged one extra dollar 'or CKLW'!" was the cry from Fred Vobbe to commence another installment of the N..R..C..Auction! Highlights of bids won included Ernie Wesolowski's $7 bid for the last CBL-740 signoff, a WSM-650 new large shirt won for $18, my $16 bid for a WFAA TV 8 shirt and the 1998 NRC San Antonio video, a WNRC-1610 new shirt won for $14, other various items including cell phones(!), radios, and the last and largest bid of $65 won by Scott Fybush for a new Sangean receiver, a WBAP-820 hat, and books including the early history of Pittsburgh radio (valued at $20 for which this reporter donated 2). Total bidding, $450.00!! Afterwards around 10:30 PM, everyone was invited to the Swiger residence "for an evening-. of great DX and fun" and watch Cousins BillyBob and Lester hook up their car battery to a Collins R390!
Meanwhile back at the hotel with a demonstration of WNRC by Fred Vobbe, someone purposely disconnected part of the cable to the station's antenna coupler which caused a warning light to come on and, for safety purposes, shutdown of WNRC at midnight. The station returned to the air for a few hours the next morning. Sunday morning and afternoon, September 5,went very well as NRC '99 Bridgeport was winding up. First was the morning breakfast buffet with possum, homefries, bacon, okra, and that delicious blackbird pie made by Granny and Aunt MillieMae, hoo doggy! Why even Bob, our banquet and morning host, served us well remembering our last visit 8 years ago!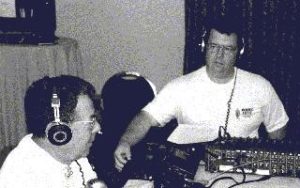 Next – was the October Travellog featuring recordings of stations broadcasting at 1600kHz all over the US hosted by those old time story tellers, John and Fred! A short open discussion followed or did it,then the last event, the "Annual NRC Examination" with our host, Professor Freddie V! The winner was to be announced in a DX News coming soon with that person to get a free case of moonshine made by Bill Swiger from his still behind his shed! Actually, the prize would be a free year's NRC membership.
As most of the membership departed in the afternoon, I and a few other members remained for a relaxing day. With a chance to see and photo area stations, I went along with my tour guide, local air personality Don Niles. Having met Don 8 years ago at WOBG, Don mentioned that his career started in 1970 at WHAR, then WBOY-1400, WRGT-106.5, returned to WBOY which changed to WBBN, then WPDX-750/104.9, then to WOBG, a few months in 1999 at WOTR-96.3, and finally a month in August '99 at WDCI-104.1. Don is presently a mobile DJ for weddings, parties, hog callings and yelling contests, and square dances! A native of Wayland,NY, Don came to Clarksburg in 1968 and was so thrilled with the NRC, he became a member!
With a second unique visit, Don took us to WOTR-96.3 roughly 12 miles south of Clarksburg in Lost Creek,WV! Not so lost, we arrived to see that member Dave Whatmough had found the station also! At WOTR or "Old Time Radio or On The Rock", a long gravel road winds way up a huge hill to 2 buildings, one of which is the studios, offices, and home to President/GM James W. (Bill) Allman! A nice fellow and avid AM DXer, Bill and Salesman Randy Cochran are the only employees here with some relief help on occasions! With taped and satellite religious/Gospel programs and some music, both gentlemen with help built WOTR and the tower, higher up on the hill. Adjacent to the 300 foot tower is the transmitter with the backup Gates and the new Crown PS2000. Inside WOTR, the station and home is a museum with Bill's collection of antique receivers like an Atwater-Kent, TVs, phonographs, and a wire recorder! Next door is a garage with a home built and new generator and a 1930 automobile. Bill runs WOTR every day for 14 hours from 8AM 10PM, then signs off and on some nights, DX'es! Thanks for the tour, Don and Bill; hopefully Bill will be an NRC member!
Well that's it, but wait as Monday September 6 came on a rainy day, I went to find the Swiger DX den only to be invited to their Labor Day Family Picnic that Bill whipped up by himself! Bill's delicious meal included pig snouts, hog legs, grits, hot dog chili, and pineapple-berry cake, umm umm good! As Uncle Jed said leaving' "thanks a heap and a helpin' for all your hospitality, you all come back next year for NRC 2000 now, ya hear!!"
The Attendees and home states if known:
Albert and Brenda Arnold-WV, Ron Bailey-NC, Dan Bartek-NE, John & Linda Bowker-FL, James Byrne- , Randall Clark-WV, Clarence Cordrey-OH, Chris Cuomo-AL, Harley DeLeurere-WV, Scott Fybush-NY, John Harding-TN, Clarke Ingram-PA, David Jones-TN, Ed Krejny-OH, Mike Lantz and guidedog Lexie!-FL, Bob and Rita LaVigne-MA, John Malicky-PA, Dave Marthouse-VA, Al Merriman-VA, Paul Mount-NJ, Donald Niles-WV, Bob Smolarek-NJ, Jerry & Bonnie Starr-OH, Joe Sandy-WV, Paul Swearingen-KS, Bill & Brenda Swiger-WV, Bill Townshend-DC, Dick Truax-KY, Fred Vobbe-OH, Phil Wayne-OH, Ernest Wesolowski-NE, Dave Whatmough-ON, Curt White-PA, Howard White-PA, Martin Wishnewitz-NY.
The NRC Quiz
The winner(s) of this year's quiz were Scott Fybush and Bob LaVeign. For their efforts, they each receive a free year of DX News Magazine!
Want to test your knowledge? Take the quiz.