2000 National Radio Club Convention
Lima, Ohio 2000 August 31 – September 4, 2000
Lima! What a hit! Or just another enjoyable and grand slam event sponsored
by the National Radio Club over the Labor Day weekend!
As always, many thanks for his complete game work, plus assembling WNRC Convention Radio, to Convention Host and DXAS Editor Fred Vobbe and his team: wife Debbie, daughter Connie, and son Jonathon who's 5 years of age! Also, thanks for his relief help to Phil Wayne and to Fred's bench support, John and Linda Bowker! Always in the clutch, John and Linda helped to distribute our convention guides, the well designed clip-on name tags, handled registration, listing members' names, and tallied bids at the auction! Plus anything else I didn't mention! If this wasn't enough, Fred also received a sitting ovation and MVP recognition for his 15 years of coordinating DXAS and being named, in addition as chief engineer, Vice President of Operations at TV 35 WLIO Lima!
Unfortunately, I always do miss some members who were regular attendees like Bruce Conti, Ernie Cooper, and Kermit Geary, plus various DX News Editors and columnists. Also, to anyone else who could not attend like two starters, Dick Truax and Frank Merrill. A broken ankle prevented Dick from coming, but hopefully he'll be off the IRL Injured Reserve List and make next year's bash. As for Frank, let's say he threw us a change up, attending a different reception, that of FM DXing?! So in his absence and money at the auction, we did have Gary Siegel in relief! However, in attendance on the mound were two longtime members and friends, Betty Lord and NRC Publications Manager and Board Member Ken Chatterton!
Now to our story and post-game report! Leading off, it's Friday afternoon September first, a new month and time on an extremely warm and humid day. After a drive up I-75 from Sidney, Ohio and a visit to WMVR-1080/105.5, I've reached our destination of Lima! For each year's convention, my anticipation and excitement grow having attended 18 with 16 in a row! Surrounded by these 16 conventions have been my station visits. This year beginning on August 28, I began my radio tours in Cincinnati, Dayton, and other towns in between en-route to Lima. However, that's another story as now it's Lima on our second visit, the first hosted by Fred 13 years ago. This small, but vibrant, city sits between Toledo to the north and Dayton to the south in northwest Ohio. Off the interstate at exit 125 and state route 309 is a myriad of commercial outlets to test weary minds like mine! Who's on first, what's on second, I don't know about third, but at the first right is Roschman Avenue leading to our temporary home park and hotel, the three-year-old Hampton Inn! On the line up", the hotel mentions 100% satisfaction…guaranteed to which I concur!
Inside the locker room or hospitality room are my teammates or friends, members, and wonderful Kewpee hamburgers! As promoted in DXN is a special picnic dinner from 5-7 PM… sponsored by the editors of DXAS in the room. So this time and under mild pressure not to procrastinate, I bypass a visit today for tomorrow to see WERT-1220 in Van Wert, Ohio to field my first meal of the day! In between short hops of registering, fumbling my room key, and receiving greetings and an assist from our host, I'll catch the legal 6 PM ID from WERT then have a picnic!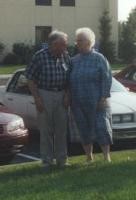 During this Friday evening on the bench, I've encountered a few members and guests. Batting first is Dorothy Dangerfield and wife of Ben of Wallingford, PA near Philadelphia. As Dorothy is amazed by my entertaining appetite (6 burgers? 7? We lost count -pls.), I am in turn amused by her interesting stories of her and Ben! Dorothy, a retired school teacher, and Ben, never really retired from his DXingl have traveled the world, 110 countries! Happily married for 52 years, Dorothy has tolerated this hobby of Ben's like a pro! Batting second is longtime member Jim Wallace who once worked at 1170 WWVA Wheeling, WV, then onto West Virginia Public Radio in Charleston, and now in private business since June this year. Having missed Jim in 1987 at WWVA and last year at WVPR, we've now caught up! In the third spot is Mark Erdman who we met last year at NRC Bridgeport. Mark's Joy in Living is working in the Great Plains of Christian Radio at KJIL-99.1 and KHYM-103.9! Both are licensed to Copeland, KS though have addresses in Meade, KS as is the same for Mark! Interesting to note, KHYM was licensed to Gilmer, TX on 1060 which was verified by myself many seasons ago! Now batting cleanup or fourth is my roommate Chris Cuomo! A 13-year veteran in the NRC and nine consecutive years as roomies, Chris and I hosted NRC Pittsburgh ten years ago! However, he and I are to be opposing starters, pitching our bids to host next year's NRC convention! Even though now we are miles apart with Chris residing in Homewood, AL outside Birmingham, we're still in touch or one pitch away! All the more reason as I wish Chris all the best because something else more important is occupying his time. That is getting married to his fiancee, Stephanie, in Selma, AL Sunday, October first! I and the NRC express our best wishes.and much happiness to this new team.
The rest of the lineup included last year's convention hosts, Bill and Brenda Swiger, Brother Mike Lantz and Lexie, Ken Onyschuk, Chicagoland's number one sportsfan; always ever helpful for station and tower locations and stickers, George Greene; DX News Publisher and rival station cup collector, Paul Swearingen; and meeting for the first time in the DH (designated hitter) spot is CPC Chairman Blaine Thompson of Ft. Wayne, IN! First game day a "W" or win, tomorrow, game two!
Saturday, September second and our clock radio is set to AM 1610 WNRC. Suddenly, the radio clicks on at 8 AM with this remark, You're listening to AM 1610 WNRC Convention City (and 99.3)…drop us a line or report to receive your very own WNRC QSL… life doesn't get any better than this! Let it be delivered, our letters are delivered! Also, life doesn't get any better because any member can take advantage of the automated station by learning how it works and by being part of the show! Anyone could read a format for news, sports, weather, or welcome messages! With Fred supervising, it's a great idea! Here the computer system would auto-magically record the messages to run 3 times or various shifts daily! Shifts would run 6 hours from midnight to 6 AM and 6 PM to midnight with three four-hour blocks in between. Easily recognizable were voices of Fred Richards and Jerry Starr's plus welcome messages from various air personalities from Dallas stations, KRLD, WBAP, KLUV, and KVRT! As always, no touching of any of the equipment in the hospitality room or the antenna. The antenna was a single wire about 30 feet high with guy wires stretched and tied to support it outside the room. With a power of 15/25 watts, WNRC had a 15-mile radius (or better) coverage area. Music consisted of oldies and contemporary. Air-check copies would be available through the Publication Center. WNRC was a field of dreams! Also to note in the visiting dugout in the hospitality room were several interesting receivers and radios and posters of radio terms and their meanings! In the meantime, a creative convention Scavenger Hunt was proceeding. Thirteen topics were listed with points from 3-15 awarded for anyone to follow up. The first one was for John Bowker's October Travellog naming the frequency and first call sign. I'll say 590 and..uh..next, what is the make and model of the WNRC AM transmitter, processor, and modulation monitor? Fred knows! Prizes would be awarded and nothing found would harm any member or the hotel while on-the hunt, so play ball. Is that your final answer?! Only the Shadow knows!
After a fine and simple continental breakfast next to the hotel lobby, 22 members assembled at 10 am for a visit to 667 West Market Street in downtown Lima at the home of 4 stations owned by Clear- Channel Lima! Entering through the back door, we are greeted by Mark Gierhart, Director of Engineering who oversees the stations. These four are Newsradio 1150 WIMA, T102 country WIMT-102.1, licensed to St. Marys, Ohio, adult contemporary Mix 103.3, WMIX, licensed to Ft. Shawnee Ohio, the Buk oldies WBUK-107.5. First order was to have a pep talk in the lounge area to discuss each station. A playbook or a promo/info folder with a red 1150 WIMA, call sign on a white background was given to each player. Inside were descriptions about each station, a history of radio in Lima, programming listings, and stickers! Later, white WBUK 107.5 ball caps were passed out, but no uniforms! As our pregame pep talked concluded, I played an air-check from WIMA's test from February 21, 2000 which Mark confirmed for a QSL! Life doesn't get any better!
During our tour and after, three unexpected events occurred. The first was for me to meet and interview for DXAS John Kouts, Morning Producer for WIMA in their studios! An interesting fellow, John was overseeing the Ohio State-Fresno State football game with the main feed coming from WBNS-146D Columbus. The second was to watch and record an interview John Bowker would grant for a young woman reporter from WLIO TV! Recorded in the front lobby away from the din, the edited 30-second piece would air on TV 35 as the last story about our club and convention at 11:28 PM. Just like Joe Namath did 32 years ago guaranteeing a victory that this would air was member Scott Fybush, producer and writer of cable news in Rochester, NY! Third, as our visit concluded with a few group photos taken outside in the back, our departures coincided with that of Mr. Ronald B. Cannon, Sr. Pastor of the Lima Baptist Temple! Pastor Cannon has just finished recording his daily five minute topical sermons to be aired each night at 6:30 PM and Sunday at 7 over WIMA. In my interview for DXA'S, Pastor Cannon confirmed that he had performed this service for 39 years! A delightful person, and we thanked him for his pep talk!
Now to the transmitters! As we leave the studios, members proceed south about 15-20 minutes away to find the WIMA transmitter site located at 2600 South McClain Road. Here at the site is the original 1948 building once designed as a county fallout shelter and FEMA studio housed downstairs. On the grounds is a 4-tower array with a non-directional signal coming from the 255 foot second tower and all four beaming the directional signal north into Lima at night. The main transmitter for the 1000-watt signal is a Broadcast Electronics AM-1A. Less than five miles south is one tower for WBUK, but my less-than-inquiring mind didn't notice until after the photo was developed later that there are FM bays on that second tower, but no FM's transmit from it.
Off our time for more tours, Mr. Gierhart presents us with an option of seeing the 1300-foot communications tower with 2 bays for WIMT (at 1060 feet) and WMLX (at 850 feet) south of Cridersville, Ohio, about 10 miles from here or lunch! Some members opt to see the tall tower while my car companions, Mr. Bowker, Cuomo, and Dangerfield, WBCD, take the loss!' Though it was ours to treasure of the tours of WIMA, thank you Mr. Gierhart! Arriving back at the Hampton, most members enjoy a leisurely afternoon; however I will seek and find the studios of Lima's WLJM-940 and Van Wert's WERT-1220! Accompanied by Pittsburgh NRC member Curt White, I find the afternoon warm and so is our greeting at WLJM! Along with 3 FMs, country WFGF-93.1 or Froggy 93, contemporary hits station WZOQ-92.1 92 Zoo licensed to Wapakoneta, Ohio, and classic hits WUZZ-104.1 WUZZ 104, the group is located northwest of downtown at 1301 North Cable Road. Inside and between a break, WUZZ's Eric Michaels takes us on the field touring each' station while explaining their formats! At the stations, owned by Forever Broadcasting, all the young on-air talent are very capable personalities and enthusiastic about their early careers! At WLJM 940 JAMZ. is Playboy Jay who started his career 4 years ago at age 13!
As a note, the 940 two-tower site is about one mile southwest of the Hampton, beaming a signal of 250 watts days and 6 at night. Today 940 JAMZ with a format of urban contemporary is instead airing the Notre Dame-Texas A & M football game, a new pickup for 940. This brings a cheer as ND is leading from the Zoo's Christine Conner, a delightful young woman, who has just finished her shift! A ten-year radio vet, she mentions almost giving her age away, but not her photo! However I am easily impressed and interview Chris for DXAS!
Yielding to Aaron Mathews on the Zoo, Chris spoke of her experience two years ago of reading for DXAS and sends a greeting to Fred and the NRC! On this Spot or that, I tell Chris that 13 years ago in this building Dr. Johnny Fever typed a QSL for himself upon reception of then WCIT! So with that, we wish Chris, Eric, and everyone the best of success and thank them for our visit!
A little while earlier, I remind myself to find the remnants of NRC Lima '87. Mentioning to Curt, they put up a parking lot at Pierce and Market that this was site of the since burnt Milano Inn, the host hotel and later on Cable Road is the old and now empty home to the Zoo which in another life was a KFC restaurant! Now like the explorers Lewis and Clark, Curt and I head west off US 30 to old route 30 and Menden Road to find 1220 on your dial, Van Wert's WERT! Even better, like a double play combination, we coincide, by accident, our arrival with that of President and GM Chris Roberts! Before departing on a trip, Chris invites us in to see the station! Like a pitcher throwing heat, Chris fires off interesting info about himself and WERT! A 23-year veteran of Ft. Wayne's WOWO, Chris has a few promotional items from WOWO including a kite and a sticky board with a small ball that fills the hole in the doughnut between Chicago, Detroit, and Cincinnati by Group W 1190! Chris mentions he almost came to KDKA many years ago to replace Art Pallan, but an illness to his wife prevented it. Then five years ago Chris bought the failing WERT, replacing most of the on-air staff with Stardust's satellite nostalgic format and made WERT more of a sales operation. Chris believes that the audience cares more about the quality of the product than who's announcing it. While interviewing for DXAS, Chris has on computer four WERT jingles from the mid ˜60s! In appreciation of our visit, we leave the 42-year-old WERT knowing we won't make the 5 PM team photo of NRC members outside the Hampton. Thus I'm tardy for the second year in a row! However, on Fred's advice, Curt and I attempt a quick stop on our return trip to Delphos' WDOH-107.1. Around the detour on old route 30 to West Second Street, we are not deterred, but instead meet President and GM Dave Roach! Dave is in the studios while the country music is playing. Off air, he's listening to the Cleveland Indians being defeated 8-6. Downstairs I'm thankful for the two mugs Dave presents to me for the auction, thank you sir! Rolling on at 6 PM Saturday evening toward a triple play evening, our Banquet is first! You will not go hungry states DXN as the buffet is full and so are our stomachs at the Ponderosa down the street within walking distance for most from the Hampton. At 7:30 PM, back in the hospitality room at the NRC Business Meeting, a W is cast for Pittsburgh! Also, Jerry Starr's wife Bonnie delivers this pitch, NRC Pittsburgh 2001, A Radio Odessey. Meanwhilel Krazy Ken pitches his first sales of the new 21st NRC AM Log Book for $16.00. Although there weren't any winners on our free Super Plus Lotto Ohio tickets tonight, there were plenty of winners at the always exciting NRC Auction which this year netted $502.00! The highlight was Bonnie's winning bid of $42 for the last remaining NBC chimes box; nice ring, Bonnie!
Sunday morning September third and the final day for some, a convention still for others. Returning to the H room at 9:30 AM, seven DXAS members and other members listen to John Bowker's DX Travellog. This edition is of ID's from 590 kilohertz and is always entertaining! Following the taping is a verbal NRC Quiz because the print edition was eaten by a mouse! No correcting of poorly answered tests here! Soon it's free time, lively discussions, and departures, or for myself a trip to Dayton's Wright-Patterson Air Force Museum and Omnimax Theatre! In closing once again, we were glad to have this time together, just a laugh or two.. to enjoy our company, activities, and look forward to next year. And in appreciation, my greetings to all and hopefully to see all of you and WNRC, Plus any other members returning to home for NRC Pittsburgh 2001!
Final score:
NRC Lima 2000 10
Anything not NRC Lima 0
Attending members and guests at NRC Lima 2000: Cuomo, Hendel, and Saylor: AL Stoler: CT J. Bowker, L. Bowker, Lantz, and Smith: FL Onyschuk: IL Thompson: IN Erdman and Swearingen: KS B. LaVigne and R. LaVigne and Wollman: MA Sherman: MN Wesolowski: NE Mount and Smolarek: NJ Chatterton, Fybush, and Lord: NY Bailey: NC Cordrey, Dunn, Geeen, Krejny, Prescott, Siegal, BKF and Jerry Starr, C. Vobbe, D. Vobbe, F. Vobbe, J, Vobbe, Wayne: OH B. Dangerfield, D. Dangerfield, Ingram, Malicky, and White: PA Marthouse and Merriman: VA Jones: TN Bi Swiger, Br Swiger, and Wallace: WV Ryan and Whatmough: ON