2013 NRC, IRCA, MN DX Club and WTFDA Convention
Minneapolis, Minnesota 2013 !
August 1st thru 4th, 2013
2013 Convention Report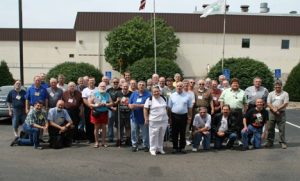 Mark Durenberger (now hiding in the North Woods but responding to: Mark4-at-durenberger-dot-com)
The 2013 DX Convention was singular in several respects. First, NRC, IRCA, MN DX Club and WTFDA members came together in a historic confluence of talent and diversity. Second, we decided to take the best ideas of the clubs' previous conventions…and then move beyond those traditions to create a "Learning and Sharing" experience. Finally, as a major recurring agenda item, we promoted and encouraged an undercurrent of discussion on the future of our clubs.
It all came together quite nicely, on a sunny weekend at the Bloomington Holiday Inn and at the Pavek Museum of Broadcasting. From an ambience perspective the hotel was a great place to stay and work and, as for the Museum, well, THAT was a singular experience in itself. Members began arriving on Wednesday July 31st to spend advance time at the baseball parks, Mall of America and other Minneapolis-area attractions. Meanwhile your friendly convention coordinators were stuffing "greeting packs" with convention and area information, gathering auction items and door prizes and filling coolers and snack bowls.
Thursday evening's convention activities began with a successful "DX-Pedition" hosted by the Minnesota DX Club at Lac Lavon Park in Burnsville. About 25 members (most of the registrants who had arrived at that point) car-pooled to the site with their radios and an expectation that conditions ought to be semi-okay (given its summer). The site was electrically quiet…but the mosquitos generated their own interference, seemingly singling out special victims in spite of the clouds of bug-spray.
Those of us ignored by the airborne vampires watched and learned as Neil Kazaross deployed a phased Beverage-On-Ground ("BOG") as well as a "Single-Kaz" antenna array. We also pulled out a single 500-foot BOG about due East, and set up a 30-foot vertical. Richard Allen brought an FSL antenna and folks learned how to couple the antenna to their radios, hot-rodding them. We struck the set before 10 PM.
Friday morning we began our "classroom" experience at 8:30 (we note this was 6:30 Pacific Time and our West-coasters were forgiven for yawning). Nick Hall-Patch presented what he creatively calls the "DX Fishbarrel." It's an innovative methodology using SpectraVue for analyzing short-term MW and LW signal trends…so you can note when they're starting to come up through the noise. His application as demonstrated is used in TP-watch. It's a most useful tool and an application that will probably become 'mainstream.'
Neil Kazaross joined the dialogue with an interesting presentation on how to use widely-available local sunset maps and a basic understanding of geography to predict where MW signal paths were likely to be opening or closing. It was one of those situations where a number of us were saying "gee I knew that, but I had forgotten about it." So Kaz brought it back home to us. The 'proof is in the capture' as they say, and Kaz played audio clips of some of the catches resulting from his approach when tuning in Illinois.
By now we were running up against a self-imposed clock (we had to finish by 11:30) so your friendly author's own paper on short MW antennas and noise-hunting was (mercifully?) truncated. I think I got about halfway through before the dinner bell rang.
At 11:30 we re-populated the meeting room with our hard-core members who enjoyed a fascinating IEEE luncheon presentation on "Meta-materials for New Antenna Design." We were also treated to a promo video on aerospace systems…from Saturn 5 to 21st-century drone warfare. Thank you Chris Fuller!
The world-famous "Group Photo" (see top of this page) came off as scheduled with 40 of our 60-person group standing in the sunshine (a few folks were off doing other things or checking into the hotel).
Car-pool drivers then loaded their machines for the trip to the Museum where we enjoyed a fascinating tour of the artifacts and history of wireless communications…including a working Spark-Gap transmitter (Docent Steve Raymer warned us to shut down phones and PDAs, to keep them from being incinerated by the ESP). Learn more: www.pavekmuseum.org
Friday afternoon's 'tutorials' began with Nigel Pimblett's tour of Don Moman's antenna farm in Alberta, VE6JY. Towers and antenna arrays cover most of 80 acres of land; the site is available for ham contesting and even scientific research. The ultimate Labor of Love!
While we were recovering from our envy, Phil Bytheway was setting up to deliver a paper on the FSL antenna. Phil's clear presentation was a great way to learn about an antenna that seems to be revolutionizing one category of Ultralight efforts. Richard Allen carried a (7-inch?) version to the conclave. Clearly a lot of work to build, but worth it.
Now Kaz returned, taking us through theory and practice on practical antennas. His paper included antenna diagrams, azimuth and elevation drawings of pickup patterns from Kaz, Flag, Double-Delta antennas and more. This presentation was of great value to anyone who has the space to deploy these antennas…and those folks who want to take that next step were given a great deal of information.
We capped the afternoon's classroom sessions with George Sherman's introduction to the new CR-1 receiver…touted as "an SDR without need for a computer." Excellent specs, and George demonstrated a good understanding of its performance, while adding comments on the radio's good and not-so-hot points.
While this probably should have been enough for any healthy DX-er, we were just hitting our stride, swinging now into the informal part of our first day. (I must add that, to everyone's credit, we didn't seem to be burning anyone out.)
Now came a healthy indicator of emerging club and inter-club solidarity. The clubs held sequential business meetings, with everyone from all clubs invited to attend all club meetings. (This was a nice indication that long-ago personal baggage about club relationships may have been jettisoned.)
When the IRCA announced its 50th-Anniversary convention in Billings next year, several members asked why we couldn't continue this "new tradition" of joint conclave. The NRC unanimously voted to forward an expression of interest in joining IRCA in Billings, for another joint convention in 2014.
Somewhere before, during or after this meeting, the attendees devoured a few dozen pizzas provided by the Museum. About 13 minutes after the pizza boxes were opened, it looked like a tornado had come through and vacuumed up all the food.
While attendees digested all that wonderful cholesterol and Trans-fat, we presented as dessert a video trip to the Utah desert, in which "Two Phools in the Phield" laid out some serious wire while having fun on ATVs. The video showed how we used a single-wire remote-adjustable termination system to null out back-side Beverage response.
It was obvious from the video your Phriendly Phools did a lot of dumb things on that trip; ideas for better technique were forthcoming from the audience. We did manage to lower the conversation level in the room when we put up the maps of our capture fields.
Now it was time to open the door on the afore-mentioned underlying agenda item: The future of the clubs. The healthy attitudes displayed during our earlier business meetings made it easier for Moderator Skip Dabelstein to get some great responses to two questions: 1) what do we do to make our clubs sustainable in view of the "graying" of the membership…and 2) what services should our clubs be offering our constituents? It was a healthy and productive session. (A recording is available.)
By this point only the stout-hearted fanatics were ready for any more. So, mercifully, we invoked an immediate end to the day's services and returned to the hotel.
Saturday arrived more or less on schedule, as it tends to do every week or so here on the Norwegian Riviera. We were gratified to see most of Friday's survivors show up at the Museum for the 9 AM start of "The Quest for the Perfect Loop." Mike Bates and Jim Dale showed us real-life artifacts of their years of experimenting with loop construction. They also shared their hard-earned conclusions and offered suggestions for physical construction. It was clear these guys are really into PVC!
Then it was time for singer/guitarist/marketer/Ham/DX-er Steve Kremer KN0F to take us on a tour of short-wave listening. Steve's comments were entertaining and informative. There's a lot left to hear out there!
Steve Raymer, our Museum host, told us how this place came together. It's a fascinating story and it credits among others Earl Bakken, inventor of the Pacemaker, with seeing the potential of a museum as a learning institute. Each year the Museum is host to more than 6,000 school-kids who are exposed for the first time to the magic of wireless!
Next, Phil Bytheway explained the state of the art of the Ultralight hobby and the qualifying rules applying thereto. Phil was kind enough to display and distribute a "Guide to Ultralights" and our would-be Ultralighters took copious notes. There's more to this hobby and its organization than some thought…
The "formal" sessions concluded with George Sherman's dissertation on LoFers and Beacons. George explained why 'down under' is still a decent if under-explored part of the spectrum, and a goal for hobbyists jaded with the other bands. His information included a look at a great reference site. rxx.classaxe.com/en/rna/signals
As long as we were noodling around close to "DC," I asked Craig Siegenthaler ("KIWA") to tell us what he was doing at the super-low-end. Turns out he's listening to lightning and earth motion in the band "0 to a few Hz." Turns out many folks were interested.
Came now the open Saturday afternoon. One station tour was planned (the logistics of motoring around this large market made it almost impractical to reach more than one site in the time available). But that one site was a goodie: The transmitter of WCCO 830. Most of the group went on the tour; lots of photos were taken, and if you're interested in photos, contact one of your friends who was there.
Three transmitters populate the main site; an alternate tower site several miles distant contains two more! (The main tower is 'too long' for 830; WCCO was on 810 prior to the 1941 NARBA switch and the tower was never shortened.) Thanks to WCCO Chief Engineer Craig Walters and his fluorescent light bulb!
Saturday evening the Holiday Inn impressed us with their Catering at a very nicely-appointed Banquet. Excellent meal; good conversation. Banquet Speaker Dean Sorenson, a long-time Broadcaster and multiple-station co-owner, regaled us with stories about his early days and about the characters he's met along the way. Dean is a DX-er himself and could relate nicely to our hobby and the current state of the clubs.
As folks checked to make sure they had their wallets at hand for the Auction, we gave out a number of cool door prizes. (To be eligible for a prize you had to complete the "Anonymous Program Survey" in which we asked for comments on individual papers . Results of that survey are below.)
DOOR PRIZES went to Steve Kremer (20th Edition of the FM Atlas); "Discovering DX-ing" was handed to Ernie Wesolowski; the book "Pirate Radio" was won by Nigel Pimblett. Subscriptions to "CQ" magazine were captured by Neil Griffin and Wayne Heinen. Somebody won a $50 Gift Certificate from ARRL (I can't decipher Skip's writing); David Jones won a $25 version of same. The FR-160 Radio went to Neil Kazaross; CC Radio's "EP" was won by Paul Swearingen and the "CC Radio 2" went to Richard Allen. We thank our sponsors for these generous contributions!
The Club Auction did very well; Colonels Phil Bytheway and Paul Swearingen were ably assisted by David Yocis and myself (David and I donned green eyeshades and raked in the club-supporting revenue from your purchases). The club merchandise donated by members brought in over $400. A separate Auction in behalf of the Pavek Museum included a Kenwood TS-520S which Jim Dale purchased. Well done all, and thank you!
There's a big yellow warning sign on Interstate 70 Eastbound, high above Denver: "Truckers, you're not down yet." Sunday morning's message: 'we're not done yet.' The endurance test began at 9 AM. "THE GREAT DX QUIZ," was prepared by M.C. Scott Fybush and was one of the toughest exams administered in quite a spell (and with such glee on Scott's part!) Winners: Part 1: Garrett Wollman-19 points; Part 2: John Sampson-36 points; Part 3: Frank Merrill-11 points.
The Grand Finale was worth the wait. "The Scott Fybush Tower Tour" was a fascinating mix of tower photos and station information, all presented in context. It's clear to this old grizzled head that Scott is a living, breathing encyclopedia of up-to-date station data…AM, FM and TV. Woe betide those who challenged "The Master"…as was demonstrated by the Quiz scores.
…and at that point we made our goodbyes and thanked everyone for coming. From what I can tell out here in Lake Wobegon, the four-day doo-dah was a success!
SOME STATISTICS:
We were 60 registrants of all ages from all areas of the United States and Canada. A few were convention 'newbies.' A majority of us belong to more than one club. Weighted representation provides the following proportional relationship: NRC 39%, IRCA 25%, MDXC 20%, WTFDA 16%.
Of the "papers" presented, 7 dealt with Medium-Wave, 3 with Long-Wave, 1 focused on short-wave and the remainder were of general interest. (We could not find an FM/TV presenter from among the ranks of WTFDA and so we addressed their interests with a great handout.) We felt this was probably a good ratio of topics but we also wanted to make sure to add something new. Let's see how we did:
ANONYMOUS PROGRAM SURVEYS: All attendees were given a program survey form to be executed for each session. The intent was NOT to see which presenter came out on top, but rather to audit the interest in each topic, as a baseline for future conventions. Because these were to be turned in Saturday evening, the DX Quiz and the Scott Fybush Tower Tour are not represented. I'll exercise reporters' prerogative and give Scott's unrated Sunday work a "must repeat."
In the survey, attendees were asked to value each presentation by circling as many of the following comments as were appropriate (the numbers are the totals for each comment submitted):
"I learned something new" (389!)…"I'd like to know more" (155)…"I had little interest in this" (39)…"I'd like to try this myself" (141)…"It was too long" (40)…"It wasn't long enough" (20)…"I didn't understand it" (3)…"I enjoyed the presentation style" (345)…"on the whole I'd rather be in Philadelphia" (0)
The total potential score was 658…that's the number of presentations multiplied by the number of surveys returned. Some folks didn't attend all sessions. (Presenters can get detail from me if interested.)
My interpretations of this admittedly non-scientific survey: The high scores in "I learned something new" and "I'd like to know more" tell us that we were pretty much on the mark in designing the program agenda. (This may also account for why most folks weren't wiggling too much in their seats.)
The high "presentation style" numbers reflect the terrific work our presenters put into crafting their papers, and the quality of their audio/visual offerings. It was a lot of work putting these presentations together, but it appears y'all appreciated the work!
THE GREAT THANK YOUs: I want to once again express our appreciation to Presenters Nick Hall-Patch, Neil Kazaross, Phil Bytheway, Nigel Pimblett, Skip Dabelstein, George Sherman, Jim Dale, Mike Bates, Steve Kremer, Steve Raymer and Scott Fybush. Thanks to Dean Sorenson for an entertaining after-banquet presentation, to Steve Raymer, Danny Henry and Courtney Bakken for their outstanding hospitality at the Pavek Museum of Broadcasting and to WCCO Chief Engineer Craig Walters.
We also recognize the convention-coordination team including Phil Bytheway, Skip Dabelstein, Todd Skaine, Ernie Wesolowski, Jim Dale and Mike Bates…and a special vote of appreciation goes to the Minnesota DX Club for hosting the DX-Pedition and for providing technical and informational support throughout the convention.
A note of gratitude is directed to the IEEE Twin Cities Microwave Chapter for supporting our Friday Lunch and for providing fascinating futuristics! Finally…our appreciation for the unselfish car-pool drivers who made getting around our venues a whole lot easier.
This was truly a TEAM EFFORT!