ENQUIRER BUSINESS COVERAGE
Sunday, March 19, 2000
Big radio airs the sound of sameness
Cincinnati towers over industry changes
BY JOHN KIESEWETTER
The Cincinnati Enquirer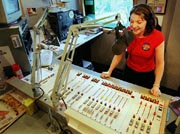 Travel cross-country, and you'll hear a familiar blend of news, sports, music and talk up and down the radio dial.
"Traffic and weather together"... "The best variety, the new MIX" ... "Today's best music on KISS" ... "More than just the headlines" ... "Be the 25th caller, just listen and win" ...
Even the voices could be identical: DJs do shows simultaneously in Cincinnati, Des Moines, Rochester, Louisville, Toledo and Charleston. News reporters broadcast in multiple cities at the same time. The same contest prize offered here is up for grabs in dozens of other cities, too.
Radio has changed radically from a decade ago, when federal law limited companies to one AM-FM combination in each city, and each had a distinctive sound.
Today, companies can own eight stations in any city, and corporate radio is gobbling up America's airwaves. While the total number of U.S. radio stations has grown, one of every five station owners has disappeared since the 1996 Telecommunications Act.

Now, Clear Channel Communications, the largest radio company in the world, is engineering the next step. Building on a radio empire it bought from Jacor Communications here last year, Clear Channel is using digital technology to create virtual clones of stations coast to coast.
"We are continuing Cincinnati's tradition of being on the cutting edge," says Randy Michaels, former Jacor CEO and now president of Clear Channel's radio division, headquartered in Covington, Ky. Stations that once had limited money and manpower now offer listeners major-league sounds, he says.
Others see it differently. Instead of a cutting edge, they see Clear Channel cutting jobs, stifling creativity and eliminating individual station identities. They see two news talk stations here instead of three a decade ago, only one 24-hour radio newsroom and a single conglomerate controlling nearly half the top stations.
Clear Channel is "the company that made radio unlistenable," says Bruce Drushel, a Miami University broadcasting professor and assistant chairman of mass communication studies.
For better or worse, Clear Channel and its predecessors have promoted some of the most profound changes in radio since 1934, when Franklin D. Roosevelt threw the switch that sent WLW's 500,000-watt signal halfway around the world.
Are radio listeners well served? Come behind studio doors and listen.
"Local' from far away It's shortly after 10 a.m. in Rochester, N.Y., and Randi West is explaining to her KISS106 listeners how they can win Ricky Martin concert tickets.
At the same time, she's telling listeners in Louisville how they can win Britney Spears tickets. She's chatting with a caller to her Toledo show, promoting a lunch giveaway on her Charleston, S.C., station and promoting a free "spring break" trip to her fans in Des Moines.
She does all this while hosting the mid-morning show on Cincinnati's WKFS-FM (107.1) from the KISS107 studios in Mount Auburn, thanks to a digital computer network linking the six Clear Channel stations.
At about the same time, listeners of Cincinnati's WVMX-FM (94.1) hear MIX94.1 host Lisa Thomas promote the station's "Wheels of Fortune" BMW giveaway, unaware that she's broadcasting digitally from Clear Channel's MIX102.9 in Dallas.
Over in Mount Adams, Gary Jeff Walker is recording his shows for other Clear Channel stations. He's a morning man in Rochester, midday DJ in San Diego and a night guy in Louisville — all before doing his 3-7 p.m. gig on WOFX-FM (92.5), the classic rock FOX92.5.
"I'm having more fun right now in my career than I've ever had, with the diversity of things I do, and the places I virtually go," says Mr. Walker, 39, a 20-year radio veteran.
These are just three of many examples of how Jacor, and now Clear Channel, revolutionized and homogenized radio programming. With the sophisticated Prophet computer program, DJs at major Clear Channel stations have access to the minute-by-minute schedules of music, commercials and talk breaks for stations from Cincinnati to San Diego, from Toledo to Tampa. For each show, these DJs digitally record customized comments about local news, events, weather or concerts, mixing them with chatter about musicians, movies and other minutiae. The comments are inserted between music and commercials, and the result is a program that sounds as if it's being produced locally — not from hundreds of miles away.
These Clear Channel personalities start their day by reading faxes and e-mails that detail promotional events and contests at their far-flung stations. They check Internet sites and the cities' newspapers for items of local interest.
That's how Ms. Thomas can talk from Dallas about more orange barrels on Cincinnati's I-275, or Mr. Walker can comment from here on the firing of the police chief in Louisville.
"Lisa Thomas is so good at what she does, that I catch her beating our other local people about what's topical. People sometimes make the erroneous assumption that they're in touch just because they're standing in the studio," says Brad Ellis, MIX94.1 program director and a Clear Channel manager for a dozen Midwest stations.
Because most of this cross-utilization of talent occurs on music-intensive formats, DJs only need to fill about two minutes an hour, spread over four or five breaks in the programming. Customizing comments for "a four- or five-hour show can take anywhere from 25 minutes to an hour," says Mr. Walker, who became Cincinnati's first DJ to use the technology three years ago.
Ms. West, 26, prefers to work hour-by-hour, "loading" each market's customized show into the computer with a click of a mouse.
"Usually I'm 30 minutes ahead. But sometimes I can be only 10 minutes ahead, or two minutes ahead. There have been some close calls!" she says.
For Ms. West, the computer technology provides the time management to do more of what attracted her to the business — talking on the radio.
"It's a great improvement. I can focus on what I'm going to say on the air. And I have more time to talk to listeners (calls are forwarded to Cincinnati), and to edit the phone calls (for broadcast), and search the Web (for chatty items)," she says.
After all, she was "hired to speak, not to watch the commercials play," notes Rod Phillips, the KISS107 program director, also known as 4-7 p.m. DJ "Rodney P."
Clear Channel's KISS107 and MIX94.1, broadcasting from Channel 12's building on Highland Avenue, are models for the modern cross-pollinated radio stations.
"Everybody here is doing it," says Mr. Phillips, who also records weekend shows from Cincinnati for Clear Channel stations in Des Moines and Rochester. "And it's not slowing down."
News by the numbers Tune your AM radio a little to the left or the right of "News Radio 700 WLW" and you'll hear similar sounds on the hour: "News Radio" stations 610 WTVN in Columbus, 630 WLAP in Lexington and 840 WHAS in Lexington.
At night when the signals are clearer, you can hear "The Big One WTAM" on 1100 AM from Cleveland.
All five Clear Channel stations have "traffic and weather together mornings and afternoons," every 10 minutes. They promise "team coverage" news on the half-hour "and bulletins at once."
The "News Radio" branding campaign was developed on Cincinnati's WLW-AM, the city's only 24-hour radio newsroom, and exported to other Clear Channel stations.
"You tell people not only what to expect, but when they can get it," Mr. Michaels explains. "You know that you can get traffic and weather on the 10s, get news at the top of the hour and school closings at 15 and 45 (past the hour)."
But it's more than just a formula. Clear Channel is the first radio company to use a computerized audio network to share news talent with stations, as it does with DJs and jingles.
An example is WTVN-AM in Columbus, which functions as a regional newsroom for WSPD-AM in Toledo and WIMA-AM in Lima.
One or two reporters in Toledo and Lima gather local stories and sound bites to send to Columbus, instead of being stuck in the studio most of the day reading newscasts. Columbus assembles around-the-clock newscasts of local, national and world news, then feeds them back to Toledo and Lima for broadcasts hourly.
Toledo's audience has jumped 50 percent since the news sharing started. "They haven't seen higher ratings (before), and a lot of that has to do with the news network," says Sean Compton, Clear Channel's national program coordinator based in Covington.
"This allows us to cover more news, not just national news on the hour," says Joe Gillespie, morning-drive DJ on Lexington's WLAP-AM. His Clear Channel station feeds local news to Louisville's WHAS-AM, which acts as a regional newsroom there.
Not everyone is pleased at what has happened to radio news.
"It's all headlines, and very little substance," says Mark Neeley, 56, former news director at Cincinnati's WCKY-AM. At its peak, "News Talk WCKY" had a 15-person news staff, he says.
"The change is related to a shift in journalism values, with much more of an emphasis on the entertainment element and away from the information element," says Mr. Neeley, public affairs officer for Hamilton County Treasurer Rob Goering and a part-time college broadcasting instructor.
"If people want more detail, they can do as I do — pick up a newspaper or find it on the Net," he says.
Charles Mechem, former chairman and CEO of Cincinnati's old Taft Broadcasting, laments the loss of the big radio newsrooms. Twenty years ago, Cincinnati had aggressive news operations at WKRC-AM, WCKY-AM, WEBN-FM, WUBE-AM/FM, WSAI-AM/FM, WGUC-FM and WLW-AM.
"There are very few legitimate and full-time (radio) news people, like a Don Webb," says Mr. Mechem, referring to the long-time WKRC-AM news director.
But that wasn't all Jacor's doing. An early 1990s radio recession forced many stations to trim or eliminate news staffers. WCKY-AM cut 10 of its 15 positions one day in 1991.
More than $1 million in red ink forced WKRC-AM to dismiss news reporters and popular personalities Rich King, Jerry Thomas, Jim Fox and Dave Lee in the early 1990s. When Jacor took over the station in 1992, the first move was rehiring Mr. Thomas. WKRC and WLW are the two remaining talk stations today.
Mr. Michaels also points out that WLW-AM was losing money — and had fallen out of the Top 10 — when he and some former Taft buddies bought it in 1983. In the most recent ratings, WLW is ranked No. 2 in the city behind sister station WEBN-FM.
"WKRC, WSAI, WCKY and WLW, all were losing money when we acquired them. All four are profitable today. I'm proud of that," he says. "Nothing keeps (other station owners) from competing with us in the news business. It's not my fault."
Bigger prizes, longer odds It sounds so easy: "Just listen and win."
But the odds against winning Clear Channel contests have leaped exponentially since 1998, when the company initiated "group contests" conducted simultaneously from coast to coast.
Cincinnati MIX94.1 listeners, for example, are urged to be "the 25th caller" for "a shot at $1,000" and a chance to win a $50,000 BMW sport vehicle. But they may not know they're competing with "MIX" listeners from 33 other stations.
At the same time Cincinnati listeners are calling the toll-free contest line, so are listeners from Dayton to Dallas, Fort Myers to Phoenix, and Springfield, Mass., to San Diego.
Clear Channel has done a variety of "group contests" in nearly every format since Jacor pioneered a "MIX Song of the Day" contest in Cincinnati and eight other cities in May 1998. Stations have offered credit card payoffs; motorcycles and other vehicles; and trips for two to England, Australia, Hawaii and many championship sporting events including the World Series, Super Bowl and NBA Finals.
To Mr. Michaels, a radio group contest is no different than McDonald's customers playing Monopoly across the country, or a group of states offering a Powerball lottery megaprize.
"The bottom line is, it enables us to offer bigger, better prizes more often," says Mr. Ellis, the MIX94.1 program director. The group prizes, he adds, are in addition to each station's array of local-only cash, trip and concert ticket giveaways.
"Look at the way the lottery is operated. The Kentucky lottery has whatever prize is up for grabs in every convenience store, but it also has the Powerball, a multiple-state, regional-national contest. It's a bigger, better prize," he says.
But there can be a down side, too. In October, WEBN-FM heavily promoted "Frog's Really Wide World of Sports" contest offering trips for two to the World Series, Summer Olympics in Australia, Wimbledon in London, the NFL Pro Bowl in Hawaii, the NBA Finals, Masters, U.S. Open, Super Bowl and NBA Finals.
WEBN didn't have any local winners because 49 other Clear Channel stations were playing along, too. When DJs read the lucky winners' names, they didn't mention where they were from.
DJs don't hype the fact that other stations are involved in group contests, but Mr. Ellis says the stations don't hide the fact, either. Stations broadcast recorded announcements four times a day that divulge all the details, he says.
Listeners who don't catch one of those announcements might be tipped to group contests if they're instructed to call a toll-free, rather than a local, phone line. Listeners also can obtain contest details by calling the stations.
"People like to play contests, and they like the opportunity to have a shot at a huge prize because somebody's got to win it," Mr. Ellis says.
"The opportunity for somebody in Cincinnati to win a vehicle over $50,000, and that kind of prize being offered on a regular basis, is just unheard of," he says. "It's just that you're participating with other people."
Playing chess with stations What has happened to radio is no different than the ownership consolidation of banks, car dealers, restaurants, shoe stores, gas stations, pharmacies or other media.
Clear Channel and other radio giants are maximizing profits and minimizing expenses with an unprecedented corporate consolidation of sales, promotion, marketing, management, news, contests, formats and talent.
"We're now starting to take advantage of the same benefits from (ownership) consolidation that Coca-Cola has used for years, and Pepsi and Kroger and K-Mart and Meijers," says Marc Chase, a Clear Channel regional vice president for programming based at WEBN-FM.
Nationally, radio listening has steadily declined in the past decade. Only 15.4 percent of the population age 12 and older regularly listens, down from 17.5 percent in 1989, according to analyst Duncan's American Radio.
Thom Moon, Duncan's research director, blames, in part, "much higher commercial loads and not as much programming innovation."
In Cincinnati, Clear Channel's eight stations average 38 percent of all Cincinnati listeners age 12 and older — more than 91,000 people every quarter-hour, according to Arbitron's latest ratings.
Mr. Mechem, the former Taft chairman, concedes that government limitations on station ownership before 1996 were "unrealistically severe." But he also believes that radio's individuality has been lost in the years since.
"There has to be a cookie-cutter element to it, because that's what you tend to do when you have so many parts. It's easier to do," he says.
When companies were limited to owning just two stations in a city, they were more willing to experiment with new formats in search of a larger audience, and to be aggressive in their music selection and news coverage, says Mr. Drushel, who spent eight years in radio before joining the Miami faculty in 1987.
"True competition is when you have 10 or 20 different owners in a city," Mr. Drushel says. "Now it's more like a chessboard. If you own eight stations, you'll view them as chess pieces and use them to protect the king or queen. You program heavy metal or something not because you think it has more appeal in the market, but because you want to protect WEBN-FM."
But Mr. Drushel doesn't blame Clear Channel completely for today's sound-alike stations.
"To a degree, everybody is doing it. Each company has its own (format) strengths in each market. Radio programming has always been a copycat business," he says.
Says Mr. Michaels: "What we're trying very hard to do — and we may have some substantial potential for improvement — is to take great ideas that work and share them among the group.
"Sharing best practices, and constantly examining what we're doing, are great advantages of a group. But I don't think that's the same as being cookie-cutter."
Mr. Michaels says listeners — not the owners — determine which formats fly or fail.
"We're obsessed with what the audience wants to hear. And it's up to (listeners) to make a judgment as to what is better. When we get higher ratings, I think the public has voted," he says.
"We're going to do what works. If it doesn't work, we're going to stop doing it. I hear how this big company-ownership has killed radio — except when you look at the way listeners vote. They're listening to us."
---
Original artical at http://enquirer.com/editions/2000/03/19/fin_big_radio_airs_sound.html
BACK to NRC articles page